Monday, February 22, 2016
Dunbar Discusses 'Never Caught: The President's Runaway Slave Woman' Feb. 24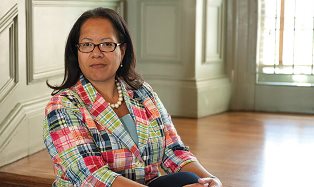 SALISBURY, MD---Erica Armstrong Dunbar, professor of Black American studies and history at the University Delaware, continues Salisbury University's African American History Month celebration with the presentation "Never Caught: The President's Runaway Slave Woman."

Her talk is 7 p.m. Wednesday, February 24, in Perdue Hall's Bennett Family Auditorium.

Discussing her second book, to be published this spring, Dunbar traces the life of Ona Judge, a slave of President George Washington, who escaped from his house in Philadelphia to live a free life in New Hampshire. After bargaining for her return to slavery, Washington refused to capture Judge, using the rational of his then-recently signed Fugitive Slave Act of 1793.

Sponsored by the SU African American History Month Committee, admission is free and the public is invited. For more information call 410-548-4503 or visit the SU website at www.salisbury.edu.