Thursday, August 6, 2009
Dr. Michael Scott Named a HAZUS User of the Year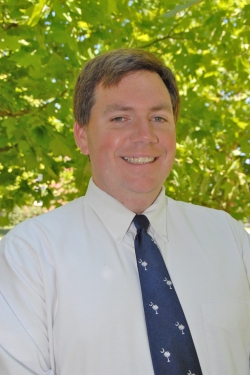 SALISBURY, MD---When it rains it pours--just ask Dr. Michael Scott of Salisbury University's Geography and Geosciences Department, who was recently named the 2009 3rd Quarter HAZUS User of the Year for his analysis of potential flood damage in Maryland.
HAZUS-MH is a risk assessment tool developed under the Federal Emergency Management Agency (FEMA) for analyzing potential losses from floods, hurricane winds and earthquakes. Each quarter, FEMA spotlights the contributions of a HAZUS user who has provided exceptional services to help expand the program.
Scott has been a forerunner nationwide in using HAZUS-MH. As the Director of the Eastern Shore Regional GIS Cooperative (ESRGC) at Salisbury University, he was an author and leader in the project "An Assessment of Maryland's Vulnerability to Flood Damage." The project was one of the first statewide HAZUS-MH analyses to be completed.
During a weather disaster, the awareness raised by studies such as Scott's may help to save lives, reduce economic impact and create faster response and recovery times, said FEMA.
For more information call 410-543-6030 or visit the SU Web site at www.salisbury.edu.