Thursday, August 19, 2010
Dr. Gary Harrington Named Fulbright Distinguished Chair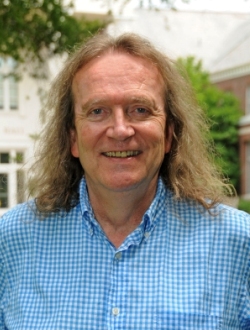 SALISBURY, MD---Dr. Gary Harrington of Salisbury University's English Department is sharing his passion for American Literature with Polish students—again.
In September, the SU professor will begin his second Fulbright Distinguished Chair appointment at Maria Curie-Skodowska University in Lublin. He also taught at the university, which is the largest in Eastern Poland, in 2002-2003.
"This is a great honor for Gary and for Salisbury University," said Dr. Elizabeth Curtin, English Department chair. "To my knowledge, no other SU faculty member has received one of these prestigious chair appointments, much less two of them. Our students are lucky to be able to take his classes on a regular basis. His dedication to teaching and his ongoing scholarship make his classes fresh and provocative."
In Poland, Harrington will teach master's students and some undergraduates about Shakespeare's influence on 20th century American literature. He will also offer a spinoff of his SU honors course that examines "grotesque" characters in American literature.
"I'm excited for the opportunity to converse with foreign students who are interested in what's going on in America, culturally and politically," he said. "I had a marvelous experience on my first Fulbright appointment; going back to UMCS will combine the ease of familiarity with the jolt of exoticism. I'm looking forward to working with Polish faculty and being in Lublin again."
One of the most prestigious types of Fulbright Scholar awards, the Distinguished Chair Program offers only forty lecture and/or research positions worldwide each year. According to the Fulbright Commission, the positions are awarded to candidates who are "eminent scholars and have a significant publication and teaching record."
Harrington has taught modern American literature, drama and Shakespeare in SU's English Department since 1988. He earned his Ph.D. from the University of Toronto, and B.A. and M.A. degrees from the University of Montana. In addition to a book on Nobel Prize-winning American author William Faulkner (Faulkner's Fables of Creativity), he also has published refereed essays on Ernest Hemingway and Virginia Woolf, among many others.
For more information call 410-543-6030 or visit the SU web site at www.salisbury.edu.