Tuesday, March 17, 2009
Dr. Diane Allen Becomes New SU Provost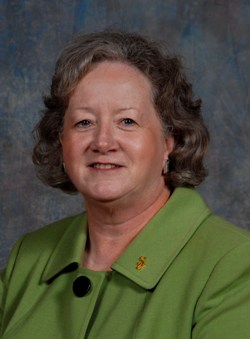 SALISBURY, MD---Dr. Diane D. Allen has been appointed provost and senior vice president of academic affairs at Salisbury University.
"Following a nationwide search and comprehensive interview process, I am pleased to announce that Dr. Allen has emerged as the successful candidate," said SU President Janet Dudley-Eshbach. "Her extensive credentials in education uniquely align with the mission of our campus and complement Salisbury University's strong commitment to excellence in teaching and learning."
"The opportunity to work with President Dudley-Eshbach and the entire campus community is extremely exciting," said Allen. "Salisbury University's reputation for providing quality education and commitment to building relationships on and off campus attracted me to the position. I look forward to being a part of such a dynamic academic community."
As the second-ranking administrator at SU, the new provost and senior vice president of academic affairs oversees areas including academic policy and budgeting, planning, curriculum, faculty development, grants and assessment. Along with the President, the provost provides leadership and vision to help take SU to new heights.
Allen said she hopes to enhance the reputation and rankings of current offerings, while also developing new and innovative programs that recruit, engage and retain students and faculty who will ultimately advance the University. She follows Dr. Tom Jones who, after three years as provost, decided to return to science education and research.
Allen comes to SU from Southeastern Louisiana University, where she served for five years as dean of the College of Education and Human Development. One of her greatest accomplishments was implementing its first doctoral program, an Ed.D. in Educational Leadership. She also obtained reaccreditations for multiple education programs, established a five-year strategic plan and co-chaired a diversity task force.
From 1997-2004, Allen was an associate dean for the College of Education at the University of North Texas. There she increased its external funding from $3.6 million to $10.7 million in three years and wrote a proposal for a math and science teacher academy that became the university's first congressional earmark. She also established its first outreach plan and education living community, and was active in its faculty senate.
A native of Memphis, TN, Allen earned her doctoral and master's degrees in curriculum and instruction from Oklahoma State University, and her bachelor's degree in English from the University of Memphis. For 12 years she was a K-12 public school teacher in North Carolina and Oklahoma. A reading and literacy specialist, she also brings some 20 years teaching experience in higher education.
In 2008 Allen was awarded the Medal of Academic Merit from La Fundacion Liceo Moderno. She has delivered more than 50 educational presentations across the United States, and published two textbooks. Her 16 peer-reviewed articles explore such topics as teaching at-risk students, increasing diversity in a college of education and studying undergraduate children's literature.
Allen currently serves on review boards for the Association of Teacher Educators and the College Reading Association, and is a longtime member of the International Reading Association. Nationally, she also serves on the Library of Congress Curriculum Committee for Teaching with Primary Sources.
In her Louisiana community, Allen served the 21st Judicial District Children and Youth planning board, the St. Charles Parish Public Schools Star Program advisory board and the Hammond Chamber of Commerce board. She also raised some $10,000 in donations for Hurricane Relief for Teachers and Schools.
Allen and her husband, Terry, have two sons. Thomas Daniel Allen is a music teacher in Plano, TX. Terry Dale Allen Jr., who is married to Amy Kramer, is an attorney in Oklahoma.