Friday, July 16, 2010
Dr. Bob Wood Named Perdue School of Business Dean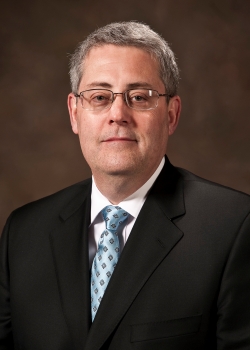 SALISBURY, MD---Salisbury University's Franklin P. Perdue School of Business is getting a new home—and a new leader. Dr. Bob Wood has been appointed dean of the rapidly growing school, which is expected to move to its new building on Route 13 in fall 2011.
"During this time of transition, Dr. Wood brings a wealth of energy, enthusiasm and expertise to the Perdue School and the University," said Dr. Diane Allen, SU provost and senior vice president of academic affairs. "By fostering connections with the greater business community, he will help create an atmosphere where our students and faculty thrive. We welcome him to campus."
As the chief academic, administrative and financial officer of the Perdue School, Wood will build partnerships with other institutions, businesses and individuals in the region, and also nationally and internationally. These partnerships will promote economic development and ensure relevancy of academic programs. He also will be involved with professional development, strategic planning and capital campaign fundraising for the school.
"The Perdue School and Salisbury University represent everything that is good about higher education: a high-quality student body, a dedicated faculty and staff, and an involved and active alumni and business community," Wood said. "Once complete, the new business school building will provide even more opportunities for our students to have a unique learning experience." His goals include earning AACSB accreditation for accounting, increasing international study and experiential learning for students, and enhancing distance learning.
Wood takes the helm of the Perdue School from Dr. Richard Hoffman, who for the past three years has served as interim dean. Under Hoffman's leadership, the school has made significant strides, including the design and groundbreaking of its new $56 million home.
Wood comes to SU from Tennessee Tech University, where he had served as associate and assistant dean of its College of Business, as well as professor of finance. He also has experience working for Dean Witter Reynolds, The Upjohn Company and Abbott Laboratories. He earned his Ph.D. in finance from Louisiana State University, and his B.S. and M.B.A. degrees from Arkansas State University.
For more information call 410-543-6030 or visit www.salisbury.edu.