Tuesday, October 18, 2016
DiBartolo Earns SU's First Fulton Professorship in Geriatric Nursing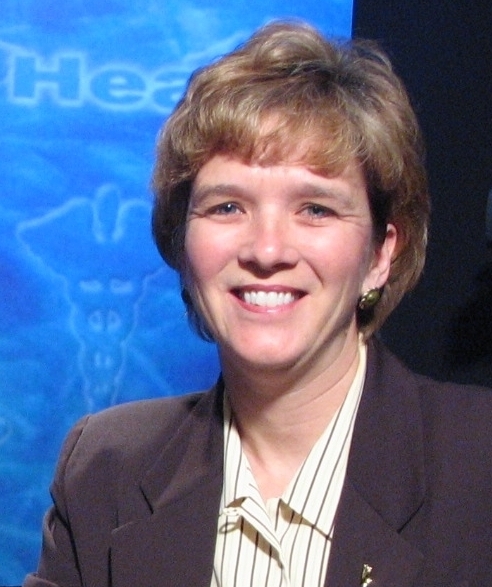 SALISBURY, MD---With over 10,000 baby boomers turning 65 every day, Dr. Mary DiBartolo of Salisbury University's Nursing Department says there is a crisis facing the nation's health care system.

Doing her part to help educate and prepare others about this issue, DiBartolo has received SU's first Fulton Endowed Professorship in Geriatric Nursing.

"Our society as a whole must begin to change its attitudes about the aging population and how we provide care and services," DiBartolo said. "I recognized that nurses can play a key role in the development of models of care to address the increasingly complex needs of this group."

DiBartolo worked in long-term care facility administration before joining SU's faculty in 1995. Certified in gerontological nursing, her areas of interest include Alzheimer's/dementia and caregiving, Parkinson's care, and end-of-life issues. "Given the changing demographics, I saw a need to focus on the gerontology aspect of the nursing profession," she said.

SU's Fulton Endowed Professorship in Geriatric Nursing was made possible by a $500,000 gift in 2008 from the estate of Charles Fulton (the namesake of SU's Charles R. and Martha N. Fulton School of Liberal Arts). Its goal: support SU's Nursing Department by providing awards to faculty to benefit students, the University and the community, and recognize leadership and dedication in education related to geriatric nursing. DiBartolo has long been involved with research, teaching and outreach related to the care of older adults, and the three-year appointment allows her to continue this work.

She is, for example, developing an interdisciplinary course on "Issues in Aging" that will be offered through SU's new Honors College starting next spring.

She continues to host PAC 14's Focus on Health, which in 14 years has led to over 230 educational programs for Wicomico residents, including such recent topics as strokes, fall prevention, hip and knee replacement surgeries, healthy eating and palliative care.

As the Parkinson's Disease Foundation's Edmond J. Safra Visiting Nursing Faculty Scholar, much of her work this year has focused on Parkinson's. She has presented about enhancing care for such patients at area hospitals and is exploring online education programs for nursing staff. She is collaborating on research with the University of Maryland Eastern Shore about Parkinson's and mobility, and she recently discussed both topics at the World Parkinson's Conference in Portland, OR.

As an educational consultant to the renowned Integrace Institute at Copper Ridge, she provides training on Alzheimer's/dementia care to various Eastern Shore facilities and organizations. She has offered free programs on dementia at support groups and older adult communities. She also has worked with the Johns Hopkins Geriatric Workforce Enhancement Program and MAC, Inc., the Area Agency on Aging, to provide expert speakers on aging-related topics.

In collaboration with SU colleagues, she is exploring topics including alcohol use disorder in older adults, oral health and palliative care. She plans to submit her work for publication and continue presentations at regional and national events.



.: Related Sites :.

.: Related News :.

"This is a well-deserved award that recognizes Dr. DiBartolo's outstanding work in geriatric nursing and nursing education," said Dr. Karen Olmstead, dean of SU's Richard A. Henson School of Science and Technology. Although other awards for faculty exist at SU in such areas as nursing and accounting, this is currently the campus' only endowed professorship.

"We are grateful to families, like the Fultons, who believe in investing in our faculty through an endowed professorship," said Jason Curtin '98, interim executive director of the SU Foundation. "It's a meaningful way to recognize in perpetuity high-achieving faculty in areas of research and teaching. They give the University a unique ability to attract and retain the very best."

DiBartolo earned her bachelor's in nursing from Towson University, M.B.A. from Salisbury, and Ph.D. from the University of Maryland, Baltimore, School of Nursing. She is the recipient of SU's 2016 Distinguished Faculty Award, a prestigious tribute that is given by faculty to faculty.

For more information call 410-543-6030 or visit the SU website at www.salisbury.edu.