Thursday, June 8, 2017
Delmarva Public Radio Wins Chesapeake AP Broadcasters Association Awards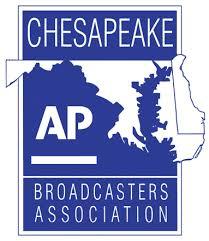 SALISBURY, MD---From political coverage to features, stories told by Delmarva Public Radio (DPR) have earned praise from the Chesapeake Associated Press Broadcasters Association.

DPR (WSCL 89.5 FM and WSDL 90.7 FM) garnered seven awards in the non-metro radio category during the association's annual summer convention in Ocean City, MD. The stations, which broadcast from the Salisbury University campus, have won more than 45 awards in the past decade.

News Director Don Rush played a part in earning six of the honors. His "Donald Trump on the Eastern Shore," covering the president during his 2016 campaign stop in Berlin, MD, won the award for Outstanding Spot News Reporting, while his series "Ruth Star Rose," looking at the 20th-century painter known for her portraits of African American life on the Shore, was lauded as an Outstanding News Series.

Rush's "Beat the Heat" feature, using sounds from a car wash to illustrate a local heatwave, earned the award for Best Use of Sound. "Gills Neck Shopping Center," an in-depth look at a proposed Sussex County shopping center's potential neighborhood impact, won the prize for Outstanding Feature or Human Interest Story, while coverage of improvements at SU's Sea Gull Stadium, with SU intern Matt Forney, was named an Outstanding Sports Feature.

"Dreamers," a piece examining undocumented immigrants brought to the U.S. as young children who now qualify for Deferred Action for Childhood Arrivals (DACA) status, with Charito Calvachi-Mateyko of the Delaware Hispanic Commission, received the award for Outstanding Documentary/In-Depth Reporting.

Also honored was DPR essayist George Merrill, who earned the award for Outstanding Editorial or Commentary for his look at "Political Myths."

"Don Rush proves year in and year out that DPR's continued focus on local and regional news remains as important — and as high-quality — as ever," said Dana Whitehair, the stations' general manager. "These awards reflect positively upon not only Don and DPR, but also on local contributors such as George Merrill, on those who support DPR, and on Salisbury University for recognizing the importance of accurate, professional, experienced reporting and thoughtful commentary for the Delmarva area."



Delmarva Public Radio was selected for these honors from among some 70 radio and television stations in Maryland, Delaware and Washington, D.C. For more information call 410-543-6895 or visit the DPR website at www.delmarvapublicradio.net.