Thursday, November 6, 2014
Delmarva Public Radio Hosts 'A Silent Night Out' Fundraiser Thursday, December 4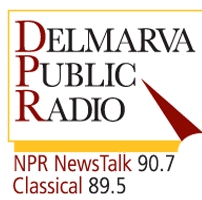 SALISBURY, MD---Delmarva Public Radio hosts its annual "A Silent Night Out" fundraising event 5-7 p.m. Thursday, December 4, at Hobos Restaurant & Bar, 56 Baltimore Ave., Rehoboth Beach, DE. Proceeds benefit Delmarva Public Radio.



Kathy Bernard and Barbara Kline of the 2BoomerBabes Radio Hour are the evening's masters of ceremonies. Singer-songwriter Melissa Alesi performs during the event, which includes a silent auction and hors d'oeuvres. Tickets are $30 per person or two for $50.

For tickets call 410-543-6895 or email Angela Byrd at mabyrd@salisbury.edu. For more information about Delmarva Public Radio visit its website at www.delmarvapublicradio.net.