Tuesday, June 12, 2012
Delmarva Public Radio Earns Five AP Association Awards
SALISBURY, MD---From coverage of bullying and racial inequality, to segments on strokes and tech-savvy baby boomers, stories told by Delmarva Public Radio recently earned praise from the Chesapeake Associated Press Broadcasters Association (CAPBA).

WSCL 89.5 FM and WSDL 90.7 FM garnered five awards in the non-metro radio category during the association's annual summer convention in Ocean City, MD. The stations, which broadcast from the Salisbury University campus, have won 30 awards in the past eight years.
"We are very proud of all our contributors," said Interim General Manager Mike Dunn. "We greatly appreciate the work they do for Delmarva Public Radio."
News Director Don Rush earned honors for Outstanding Use of Sound for his coverage of the Nanticoke Native American tribe's 34th Annual Powwow in Millsboro, DE.
Reporter Jamyla Krempel won Outstanding News Series for three segments exploring racial inequality in Somerset County, including the historical lack of African-American representation in local government.
The stations' popular 2BoomerBabes Radio Hour again took top honors for Outstanding Talk Show.
Hosts Barbara Kline and Kathy Bernard were spotlighted for segments including "Boomers and our 401Ks, Can We Ever Retire" and "Phone Apps, Keeping Tech Boomers Savvy."
Volunteer contributor Penny Hartman also was a repeat winner for Outstanding Editorial or Commentary. Her moving reflection "Stroke: One Woman's Thoughts" explored the many life changes that followed her stroke.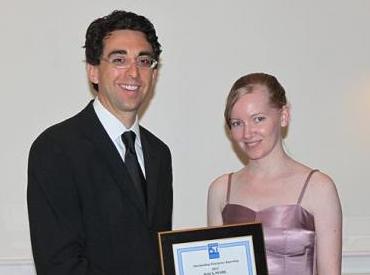 Staff member Sarah Coyne won Outstanding Enterprise Reporting for her series on "Bullying." Localizing this national issue, she shared perspectives of Wicomico students, and educators who are trying to help.
Delmarva Public Radio was selected for these honors from among some 70 radio and television stations in Maryland, Delaware and Washington, D.C. For more information call 410-543-6895 or visit the Delmarva Public RadioWeb site at www.delmarvapublicradio.net.