Wednesday, September 27, 2006
Delegation From Salisbury, England, Visits SU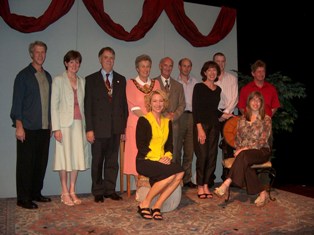 Standing, from left: actor John Ebert; Jan Cardy of New Sarum; Councillor Kevin Cardy, deputy mayor of New Sarum; Councillor Sheila Warrander, mayor of New Sarum; the Mayor's Consort, Michael Warrander; Councillor Ian Tomes, past mayor of New Sarum; actress Kelley Rouse; Assistant City Beadle Alex Bell; and Sergeant at Mace Graham Jackson. Seated, from left: actress Martha Pfeiffer and Anita Goddard of New Sarum.
SALISBURY, MD---Continuing a 74-year tradition, officials from Salisbury, England, recently visited here as part of a sister city program that has seen delegates from the two municipalities welcome one another since 1932.
During the English delegation's tour, officials dined at Salisbury University's Commons and discussed the possibility of a live television hookup between Cool Beans (SU's cybercafé) and a coffee shop in Salisbury, England, with Paul Land, director of SU Auxiliary and Dining Services.
The delegation also attended an SU Theatre scholarship fund-raising performance of Mono a Mono, hosted by Dr. T. Paul Pfeiffer, as guests of the President's Office. Dr. Ellen Zinner, assistant to the President, hosted the SU portion of the delegates' visit.
Though the English town has been named "Salisbury" since long before the sister city partnership began, its 12th century name was New Sarum. Councillor Sheila Warrander, one of the delegates making the trip to Maryland, is the 746th mayor of New Sarum.
For more information call 410-543-6030 or visit the SU Web site at www.salisbury.edu.