Friday, March 17, 2017
Delegate Tawanna Gaines Named SU Hargreaves Fellow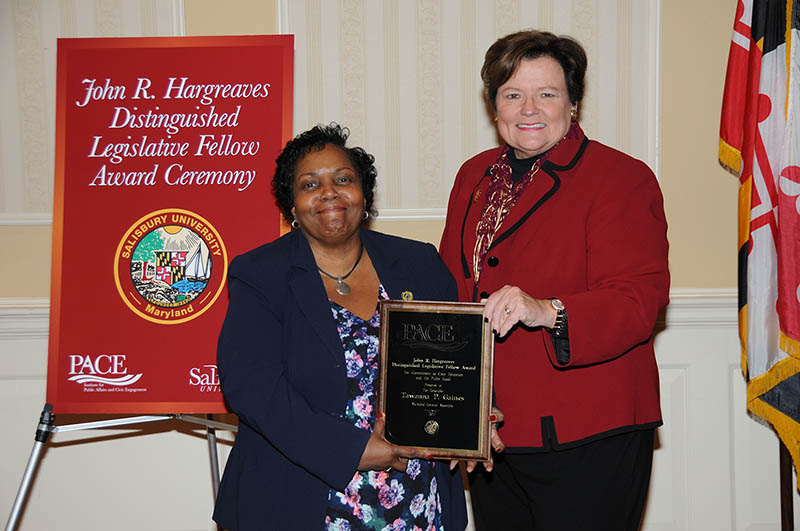 SALISBURY, MD---Maryland Delegate Tawanna P. Gaines is Salisbury University's 2017 John R. Hargreaves Distinguished Legislative Fellow.

In recognition of outstanding public service, the award was presented by SU President Janet Dudley-Eshbach during a ceremony at the Miller West Conference Center in Annapolis.

"Delegate Gaines brings over 15 years of experience to her roles in the legislature," Dudley-Eshbach said. "She actively demonstrates skills and values that we strive to instill in our students, including community engagement and volunteerism. She is known for her straightforward communication and her willingness to take on new challenges and break barriers for others. She is a strong advocate for all Marylanders on important issues and a worthy recipient of the Hargreaves Award."

Serving in the House of Delegates since 2001, Gaines represents Prince George's County. Currently, she is vice chair of the Appropriations Committee and chairs its subcommittee for transportation and the environment. She is past president of Women Legislators of Maryland, and also belongs to the Legislative Black Caucus of Maryland and Maryland Veterans Caucus. She is on the joint committee on children, youth and families, as well as the National Capital Regional Transportation Planning Board and Chesapeake Bay Commission. The Washington Post has called her "one of the most refreshingly forthright lawmakers in Annapolis."

Prior to joining the legislature, Gaines made history in the Town of Berwyn Heights by being elected as the first African American council member and later the first female mayor. A leader in her community, she has been involved with such organizations as the Prince George's County Municipal Association, Dimensions Healthcare System and Berwyn Heights Boys and Girls Club. Applauded for her volunteer work and public service, Gaines has been honored by the Maryland State Park Advisory Commission, Maryland Association of Counties, Maryland Clean Energy Center and Maryland Municipal League, among others. A native of Washington, D.C., she is a graduate of the District of Columbia Teachers College. She has two children.

"The Hargreaves Fellowship allows SU students to learn firsthand from outstanding state legislators about their work on behalf of the citizens of Maryland," said Dr. Maarten Pereboom, dean of SU's Charles R. and Martha N. Fulton School of Liberal Arts. "We look forward to Delegate Gaines' visit to campus later this year."

Gaines is the 16th recipient of the Hargreaves Fellowship. Past honorees include Senate President Thomas V. "Mike" Miller and J. Lowell Stoltzfus, Brian Frosh, Rob Garagiola, Thomas "Mac" Middleton, George Edwards and Ed Kasemeyer for their service as senators; as well as House Speaker Michael Busch and John Bohanan, Talmadge Branch, Addie Eckhardt, Sheila Hixson, Adrienne Jones, Norman Conway and the late Howard "Pete" Rawlings for their service as delegates.

Sponsored by SU's Institute for Public Affairs and Civic Engagement (PACE), the award was made possible by contributions to SU in memory of the late John R. Hargreaves, a legislator from Caroline County. For more information call 410-543-6030 or visit the SU website at www.salisbury.edu.