Tuesday, March 25, 2003
Delegate Rawlings honored with Hargreaves Award
SALISBURY, MD--Leading the charge for reasonably priced housing, available healthcare, and a better chance for minorities in higher education are his strong suits; committing 23 years of service in the Maryland House of Delegates is his pride.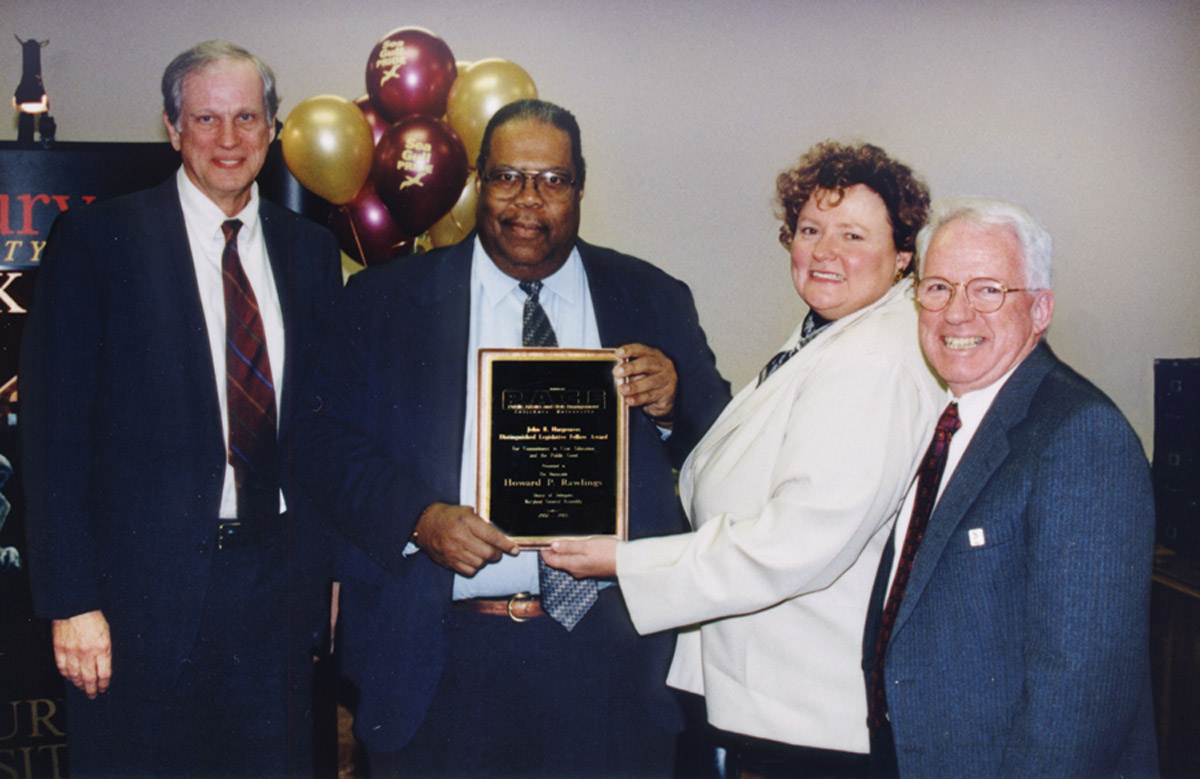 Recently, Maryland State Delegate Howard "Pete" Rawlings was honored by Salisbury University and its Institute for Public Affairs and Civic Engagement (PACE) with the second John Hargreaves Distinguished Legislator Award. At an afternoon press conference at Salisbury University Day in Annapolis, President Janet Dudley-Eshbach presented the Delegate with the PACE award recognizing outstanding state legislators.
Funding for the program was made possible by the John R.Hargreaves Memorial fund. Delegate Hargreaves was a distinguished member of the Maryland General Assembly from Caroline County. Upon his death, a fund was established in his name at Salisbury University.
Rawlings went to Morgan State University after growing up in Baltimore's Edgar Allen Poe housing projects (the first public housing units in Baltimore). He was motivated by a math professor to pursue his education in mathematics. After graduating with a B.A. in mathematics, he continued his education at the University of Wisconsin, and received an M.S. in mathematics.
As he pursued his doctoral studies, Rawlings became increasingly interested in politics and he gained experience in coalition building and legislative advocacy. Rawlings was elected in 1979 to the Maryland House of Delegates to represent the 40th District in Baltimore City. He currently sits on numerous boards including the Maryland Education Coalition, the Maryland Historical Society and the Maryland Low Income Housing Coalition.
"Delegate Rawlings is the type of person with whom anyone can sit down and talk," said Dudley-Eshbach. "He is a powerful person who is passionate about those issues that have attracted him and kept him in the political arena."
The Hargreaves Distinguished Legislative Fellow Program is a unique program in Maryland which provides an opportunity for a renowned member of the Maryland General Assembly to engage Salisbury University students in civic education.
"One of the goals of PACE," said co-director Dr. Harry Basehart, "is to bring on campus outstanding legislators who have worked tirelessly on behalf of the public good so that out students will be able to see real models of civic engagement." The award is presented annually to a legislator who demonstrates strong leadership qualities and proves to be an excellent public role model for students.
Senator Mike Miller, president of the Maryland Senate, was the first recipient of this award in the fall of 2001. Rawlings plans to visit Salisbury University's campus after the legislation session. "Given the difficult, yet groundbreaking nature of this 2003 session," commented Dr. Francis Kane, co-director of PACE, "it will be both exciting and enlightening to hear from this distinguished public servant."
For more information call PACE at 410-677-5045 or visit the SU Web site at www.salisbury.edu.