Friday, May 6, 2016
Curtin, Jordan Honored with SU Town-Gown Council Awards
SALISBURY, MD---Salisbury University's Town-Gown Council has honored two individuals with its second annual Town-Gown Council Awards.

From the campus, Jason Curtin, assistant vice president for alumni relations and development and deputy director of the SU Foundation, Inc., was recognized for "diligently working to strengthen University and community relations" and often surpassing "the duties in his job description" to enhance campus connections.

From the community, Jennifer Jordan, a Camden-area neighbor, was honored for "facilitating enhanced communication and collaboration between the University and the community." She also was credited with helping ensure that the Town-Gown Council's mission is achieved and being a "critical part" of the success of SU community relations.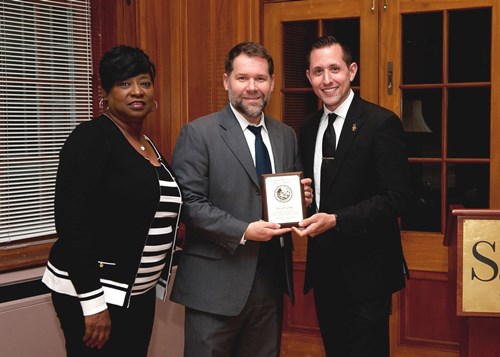 "Jason has been one of the most hardworking members of the Salisbury University community for nearly 15 years," said Robby Sheehan, chair of SU's Town-Gown Council. "He has always gone above and beyond in everything that he does and our University has benefited because of his work. He has been instrumental in building positive relationships with donors and community members alike. He is extremely well-known around the community and is very active in civic organizations."

Curtin is a 1998 SU graduate who returned to work at his Alma Mater in 2004. He is currently serving his second term as president of the Optimist Club of Salisbury.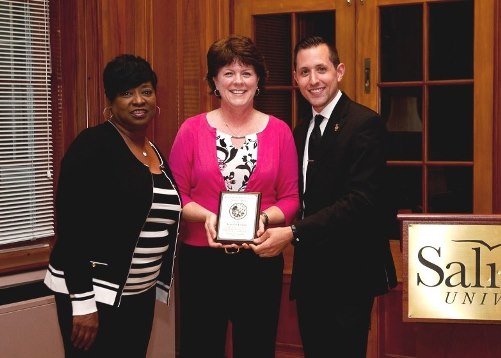 Jordan has been a "faithful member" of the Town-Gown Council's Neighborhood Relations Subcommittee.

"Jennifer has been an outstanding liaison to the University for several years," Sheehan said. "She has been instrumental in working between the University and community to ensure that positive relations continue to exist. She has not only taken it upon herself to share what we discuss at the Town-Gown Council with all of her neighbors, but she is always brainstorming different ways that we can engage with the community. I'm excited to act on some of Jennifer's suggestions this coming year and believe that she serves as an invaluable part of our SU community."

During the end-of-year reception, Sheehan, who also is the director of government and community relations and deputy chief of staff at SU, applauded the work of the Town-Gown Council in helping to reduce complaints from nearby neighborhoods. He also noted that its Public Works Roundtable has been effective in facilitating collaboration between allied public works agencies, including proposals for a rail-trail and Route 13 median enhancements.

"As the relationship between the University and the community continues to strengthen, I wholeheartedly believe that the Town-Gown Council can serve an even greater role in facilitating conversations related to economic and community development as well as the revitalization of downtown Salisbury, in addition to our ongoing conversations related to neighborhood integrity," Sheehan said.

The 2015 award recipients were Lawanda Dockins-Mills and Sue Eagle from SU and Chuck Dashiell from the community.

For more information call 410-543-6030 or visit the SU website at www.salisbury.edu.