Thursday, June 17, 2010
Culver Appointed to AASCU Advisory Council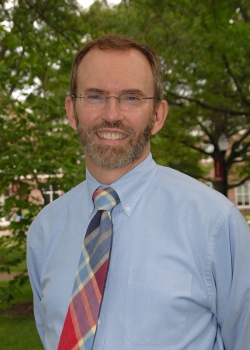 Washington, D.C.---Richard Culver, media relations director at Salisbury University, has been appointed to the Advisory Council for Communications and Public Affairs for the American Association of State Colleges and Universities (AASCU).
A volunteer group for AASCU's division of communications, the 14-member council is comprised of chief communications officers from member institutions across the nation. The council provides AASCU's vice president for communications with campus- and system-based perspectives on the effectiveness of the organization's communications, marketing and public affairs programs. The council also encourages member support of AASCU's communications initiatives, and sponsors an annual conference for senior public relations and marketing leaders from member colleges and universities.
"As a graduate of two public campuses, I truly appreciate the opportunities they have provided in my life and in the lives of family, friends and colleagues," said Culver. "My first real contact with AASCU was through SU President Janet Dudley-Eshbach, who is a member of its board of directors. She encouraged me to become involved and to serve in this capacity, and I'm grateful for her support."
Culver has worked in the fields of public and media relations for more than 20 years. He worked at Wayne State University, Detroit, where he earned his Master of Fine Arts, and also at the University of Michigan, Ann Arbor.
He has served on the boards of the Salisbury-Wicomico Arts Council, Lower Delmarva branch of the American Heart Association, Salisbury Film Society, Salisbury Symphony Orchestra and Wicomico County Convention and Visitors Association. He also served on the Wicomico Youth & Civic Center Task Force and Wicomico County Compensation and Allowance Commission. In 2008 he received Wicomico County's Betty K. Gardner Tourism Person of the Year Award.
AASCU is the leadership association of 430 public colleges and universities enrolling more than 3 million students. According to the association, these institutions fulfill the expectations of a public university by working for the public good through education, stewardship and engagement, improving the lives of people in their community, their region and their state.
The AASCU communications council includes representatives from Missouri State University, University of North Texas, New Jersey Association of State Colleges and Universities, and the University of Nevada Las Vegas.
For more information, visit the SU Web site at www.salisbury.edu or call 410-543-6030.