Wednesday, January 9, 2013
Counseling Center Earns $302K Grant for Suicide Prevention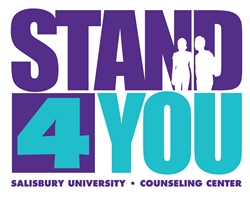 SALISBURY, MD---Recognizing suicide as the second leading cause of death among college age students nationwide, Salisbury University's Counseling Center has earned a three-year $302,883 grant to launch a prevention effort.
Funded by the federal Garrett Lee Smith Memorial Act, the nation's first youth suicide prevention bill, the grant will be used to immediately establish SU's new Stand4YOU Suicide Prevention Program.
A campaign launch event is 3-5 p.m. Thursday, February 7, in the Guerrieri University Center, Fireside Lounge.
"Suicide is a public health issue across the U.S. and the University is taking a proactive, campuswide approach to build awareness among those who can help and for anyone in need," said Dr. Kathleen Scott, counseling center director.
The multi-pronged Stand4YOU campaign includes discussion groups and e-trainings. Program goals include fostering early detection of mental health issues and changing student behavior by increasing their openness to seeking help.
"We want faculty, staff and students to have more knowledge about resources, as well as the ability to identify and discuss warning signs of distress," Scott said. Stand4YOU also aims to decrease stigma attached to receiving mental health assistance and enhance outreach to at-risk populations on campus, including veterans, African-Americans, Native Americans and the Lesbian, Gay, Bisexual, Transgender and Questioning (LGBTQ) community.
"Nationwide, more students are coming to college with mental health concerns," Scott added. "Early identification, getting help, and a positive campus culture about counseling and resources are linked to improved academic performance and retention."
In addition to the Counseling Center, anyone needing help with suicidal thoughts, depression or other mental health concerns may call the National Suicide Prevention Lifeline at 1-800-273-8255 or visit www.suicidepreventionlifeline.org.
The 2004 Smith Act is named in memory of Oregon Senator Gordon Smith's son who died by suicide in 2003. The grant was awarded by the U.S. Department of Health and Human Services' Substance Abuse and Mental Health Services Administration.
SU's Stand4YOU Program was named by freshman Dillan Taylor, during a fall competition that garnered over 100 submissions from students who learned about the new initiative. Taylor received an iPad. For more information, contact Scott, Stand4YOU project director, at 410-543-6070 or kjscott@salisbury.edu.