Monday, November 13, 2006
Contemporary String Quartet Performs at SU December 4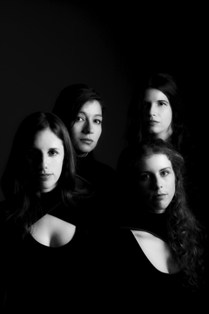 SALISBURY, MD---Described as a "powerhouse of musical creativity," the Israel Contemporary String Quartet has played at concerts and festivals in Israel, Europe, Asia and across the United States.
Salisbury University hosts the performers 7 p.m. Monday, December 4, in the Great Hall of Holloway Hall. The show features Hadas Fabrikant and Tali Goldberg on violin, Hilla Epstein on cello and Amelia Hollander on viola.
With diverse repertoire, the four young women perform works by classical and 20th century masters, international contemporary composers and other artists, including rock bands and jazz groups. They have premiered numerous works by Israel's leading composers, such as Zvi Avni and Bardanashvili.
Beyond their instrumental capability, the group is also known for their genre-bending multimedia performances that feature innovative choreography and theatrical staging. Its major premier performance at the Tel Aviv Museum of Art in 2002 featured spoken word passages, electronic effects, video installations and inventive lighting and costume designs.
The quartet has received grants and awards for artistic activity, including the 2004 Grand Prix award at the Eighth International Contemporary Chamber Music Competition in Poland and the 2003 outstanding performance award from Israel's Minister of Culture and Education.
The quartet is also an active supporter of peace efforts in the Middle East, initiating a special project, titled "Possible," in conjunction with Arab and Palestinian musicians and composers.
The performance is made possible by the Embassy of the Israel Republic in Washington, D.C., the SU Office of Cultural Affairs and World Artists Experience, Inc., as part of the SU Ambassador series.
Prior to the concert, a Hanukkah Dinner is 5–7 p.m. in the Bistro of the Commons. Cost is $9.30 for adults and $5.72 for children. The dinner is free for children five and under.
Admission to the Israel Contemporary String Quartet concert is free and the public is invited. For more information call 410-219-2872 or visit the SU Web site at www.salisbury.edu.