Friday, June 19, 2009
Community Players Perform 'Doubt' at SU July 10-12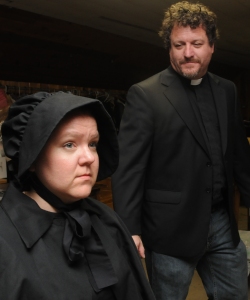 SALISBURY, MD---According to the Los Angeles Times, "The starchy, unflattering habit worn by Sister Aloysius in Doubt comes in only two colors: black and white. But the dominant hue in John Patrick Shanley's Tony and Pulitzer Prize-winning drama is gray—multiple shades of it."
The Community Players of Salisbury present Doubt: A Parable July 10-12, in Caruthers Hall at Salisbury University. Directed by Kel Nagel, curtain is 8 p.m. Friday–Saturday, and 2 p.m. Sunday. Following each performance, an audience discussion on the play will be led by Dr. Francis Kane of SU's Philosophy Department.
Shanley, an Academy Award-winning playwright, explores the ethical dilemma facing Sister Aloysius, principal of a Catholic elementary school in the Bronx in 1964. After a nun becomes suspicious that the charismatic Father Flynn has had inappropriate relations with an eighth grade boy, Aloysius embarks on a crusade to unearth the truth, armed with her moral convictions.
But can she be sure, with only circumstantial evidence? What does the boy's mother, Mrs. Muller, think about the campaign to remove the priest? What are the irrevocable consequences for her, the children and the church?
"Shanley subtitled the play A Parable for a reason," said Nagel, who attended Catholic schools and colleges, and came of age during the 1960s. "The playwright is intentionally ambiguous about what is going on, allowing the audience to decide. The priest gives two homilies in the play, one about navigating by the stars and the other about gossip. In many ways these are themes that Shanley explores with much feeling— themes viewed through the eyes of different generations, of old church versus new church, and of different educational philosophies. There are reasons why Father Flynn speaks in parables.
"I think this play is a big leap for the Community Players," Nagel added. "And I'm grateful for the support of Fran Kane and SU's Philosophy Department."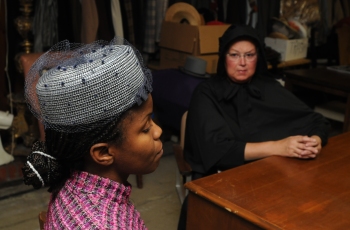 Exploring the gray areas between doubt and certainty, and right and wrong, the play's simple, yet ever-shifting plot creates a metaphysical battlefield. First a Broadway hit in 2004, last year's film adaptation was nominated for five Oscars and five Golden Globe Awards. Honored for her role as Sister Aloysius, Meryl Streep won Outstanding Female Performance at the 2009 Screen Actors Guild Awards.
The Salisbury cast features Cindy Gore as Sister Aloysius; Kenny Johnson as Father Flynn; Mandy Welch-Hamill as Sister James; and Heather Ward as Mrs. Muller. Set design is by Ernie Matthews, lighting by Sharon Benchoff and sound by David Allen. Poster design is by Kathy Panchyk and stage manager is Kate Nelson.
Admission is $15, $12 for seniors and non-SU students; and $6 for students with an SU ID. Tickets are available at SU's Guerrieri University Center Information Desk or online by credit card or PayPal at www.communityplayersofsalisbury.org.
A "dinner and a show" partnership between the Community Players and the Local Owners Restaurant Association gives ticket or stub holders 15 percent off at Sobo's, Red Roost, Boonies, Vinny's LaRoma, Zia's, Break Time, Cactus Taverna, Market Street Inn, Bistro 54, Adam's Ribs and Old West Steakhouse, or 10 percent off at Lombardi's.
This play is not recommended for children under high school age. For more information call 410-546-0099 or visit the SU Web site at www.salisbury.edu.