Wednesday, October 21, 2009
Community Invited to Participate in 'Hands, Heart, Steel and Glass' Installation October 22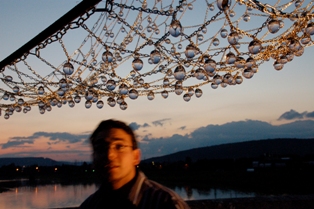 SALISBURY, MD---Salisbury University invites community members to express themselves … through glass.
Students in art faculty Alison Chism's glass blowing class have created a menagerie of glass hearts for the installation "Hands, Heart, Steel and Glass," on exhibit Thursday, October 22, at Blackwell Library. From 10 a.m.-6 p.m., members of the campus and greater community are invited to stop by the exhibit and write down what they're feeling at that time—about themselves, the world, love, art or anything that may be on their minds. The notes will be placed into the glass hearts, which will then go into a basket to raise a "sail of light" to complete the piece at 6 p.m.
"Hands, Heart, Steel and Glass came in a vision-like inspirational three days in mid-April 2009," said Chism, who began the project at SU and completed it during an artist-in-residence stay at The Ohio State University last spring.
With the help of OSU students, she produced a similar sculpture there in June. By invitation, she also installed the piece later that month in Corning, NY, during the annual Glass Art Society Conference.
"The next installation, here at SU, will be the most complete iteration to date," Chism said.
Those stopping to write notes for the hearts will receive a small gift while supplies last. For more information call 410-543-6030 or visit the SU Web site at www.salisbury.edu.