Thursday, May 12, 2016
Commons to Go Trayless in Fall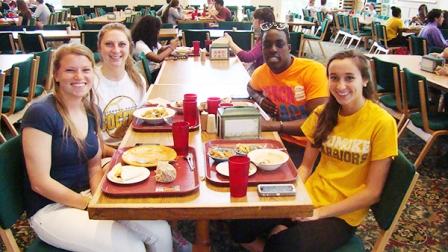 SALISBURY, MD---Salisbury University's sustainable initiatives continue next fall, as the Commons dining hall goes trayless.

Eliminating trays from the all-you-can-eat facility will save water by reducing the number of dishes that must be washed daily, said Wayne Shelton, director of campus sustainability and environmental safety.

It also may help cut down on food waste as diners take only what fits on their plates — which will be a little larger and lighter than those currently in use.

"The net effect is to reduce water, electricity and chemical consumption in the dish room while also cutting food disposal significantly," said Shelton.

If students and others are still hungry after their first trip through the line, they will be allowed to go back for seconds (or even thirds). Food stations also will be reconfigured with enhanced offerings for faster service.

Other changes include the rollover of student Dining Dollars between fall and spring semesters (students must be enrolled both semesters) and enhanced Dining Dollar amounts on student meal plans beginning in the fall. Students also will not be held to restrictions of one meal card swipe per period, so they may use the meals on their plans in a way that fits their schedule.

For more information call 410-548-5796 or visit the University Dining Services website at www.salisbury.edu/dining.