Monday, July 6, 2009
'Chronicle of Higher Education' Names SU a Great Place to Work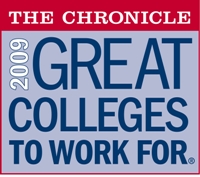 SALISBURY, MD---Salisbury University has been named one of The Chronicle of Higher Education's 2009 Great Colleges to Work For®, honored for its creation of an exceptional work environment.
Based on responses from nearly 41,000 administrators, faculty and staff from 247 colleges and universities nationwide, the results of the second annual survey are published in the special Academic Workplace supplement of The Chronicle's July 10 issue and online at http://chronicle.com/indepth/academicworkplace.
"The recognition of Salisbury University as a great place to work by the nation's leading publication in higher education confirms what many of us have long known: The enthusiasm, talent and commitment of SU's faculty and staff have truly made this campus noteworthy for teaching and for pursuing a career," said SU President Janet Dudley-Eshbach. "In addition, this independent and anonymous survey was taken at a time when SU employees were enduring salary cuts, which make these results even more remarkable. I am grateful to work with such dedicated and selfless colleagues."
The Great Colleges to Work For program is designed to recognize campuses for specific best practices and policies in the areas of work environment, pay and benefits, and institutional policies. Lauded among medium-sized campuses with 3,000–9,999 students, SU earned honors in seven out of 26 categories for four-year institutions. Areas of excellence include the University's collaborative governance; teaching environment; physical work space conditions; supervisor-department chair relationships; professional/career development programs; policies, resources and efficiency; and tenure clarity and process.
Data was collected from a two-part assessment administered by ModernThink LLC, a Wilmington, DE-based research and consulting firm: a workforce climate survey for employees and an institutional audit. The results were based primarily on feedback collected from employees.
For more information call 410-543-6030 or visit the SU Web site at www.salisbury.edu.