Monday, October 9, 2006
Chinese Acrobats Perform at SU November 13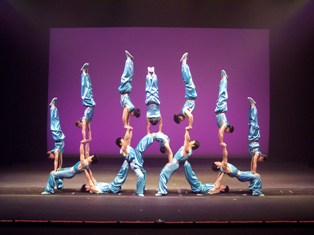 SALISBURY, MD---Chinese acrobatics are more than a series of stunts. They are an ancient art form perfected by years of training and discipline.
Wearing colorful costumes, the Shangri-La Chinese Acrobats demonstrate their talents in a performance at Salisbury University 7 p.m. Monday, November 13. Held in Holloway Hall Auditorium, the show is part of the "Artists of Asia" fall cultural events series. Tickets are available in SU's Guerrieri University Center starting Monday, October 9, for students and Thursday, October 12, for the community.
"The emphasis of the cultural events this fall focuses on the artists of Asia and this is an old Asian art form," said June Krell-Salgado, director of SU's Office of Cultural Affairs. "The acrobat has a long tradition in their society. The college is very fortunate to have them perform."
The multi-faceted, multicultural show features acrobatics, daring feats of balance and martial arts displays. There's even a touch of comedy as they flawlessly execute their stunts with grace and precision.
For more than 25 years the Shangri-La Chinese Acrobats have performed across the U.S. and around the world in places including South America, Central America, Southeast Asia, South Africa and Canada. The troupe consists of approximately 15 acrobats from The People's Republic of China. Their high-energy performance demonstrates the ancient concept of harmony between mind and body.
Sponsored by Office of Cultural Affairs, the performance is free and the public is invited. For more information call 410-219-2872 or visit the SU Web site at www.salisbury.edu.