Thursday, February 4, 2016
Chamber Orchestra Kremlin Moscow Returns to SU Tuesday, March 1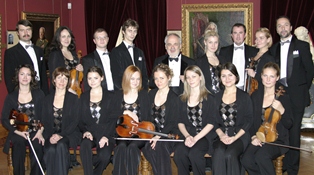 SALISBURY, MD---One of the world's premier chamber string orchestras, the Chamber Orchestra Kremlin Moscow, returns to Salisbury University Tuesday, March 1.

Part of SU's Peter and Judy Jackson Chamber Music Series, the concert is 7 p.m. in Holloway Hall Auditorium.

Founded in 1991, the orchestra is comprised of some of Russia's finest young string players. The ensemble has received glowing reviews from newspapers throughout North America. According to the Milwaukee Journal-Sentinel it is "an ensemble of remarkably tight discipline and heart-on-the-sleeve expressiveness." The New York Times lauds founder and conductor Misha Raschevsky who "elicits warm, full-blooded and virtuosic playing."

An Eastern European Dinner precedes the concert from 4:30-7:30 p.m. in the Commons as part of University Dining Services' International Dinner Series.

The menu includes Estonian sauerkraut with pork and barley, pierogi with caramelized onions, vegetarian potato-mushroom goulash, ghivetch (Russian summer vegetable stew), cauliflower paprikash, rye and pumpernickel bread, pashka (Russian cheesecake) and apple cake. Cost is $12.48, $7.57 for children ages 5 and under.

Sponsored by the Cultural Affairs Office, admission to the concert is free and the public is invited. For more information call 410-543-6271 or visit the SU website at www.salisbury.edu.