Monday, August 27, 2007
Chéjere Performs Traditional Mexican Music at SU September 12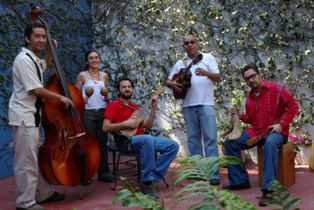 SALISBURY, MD---Blend traditional Mexican music with a bit of Caribbean beat and Afro-Latin rhythms and it creates… a woodpecker?
The name may be a bit offbeat, but the band Chéjere (Mexican for "woodpecker") offers just that 7 p.m. Wednesday, September 12, in the Wicomico Room of the Guerrieri University Center at Salisbury University.
Upon forming Chéjere, the band's six principal musicians sought to represent the stories that bring together Mexico City and the country's Veracruz region. Chéjere continues to musically share those tales at live venues throughout Mexico, the United States and South America, as well as through its 2005 album, Chéjere con son. In addition to performing at SU, the band also plays for the Organization of American States.
Performing in honor of Hispanic Heritage Month, which begins Saturday, September 15, Chéjere's concert follows a special dinner 5-7 p.m. Wednesday, September 12, in the Bistro of the Commons. Cost of the dinner is $9.68, $5.95 for children 6-12, free for children 5 and under.
Co-sponsored by the Office of Cultural Affairs, World Artist Experiences, Inc., and the Embassy of Mexico, the band's performance is part of the SU Ambassador Series. Admission is free and the public is invited.
For more information call 410-677-4685 or visit the SU Web site at www.salisbury.edu.