Wednesday, September 17, 2014
Caroline County Artist Wins Sea Gull Century Art Contest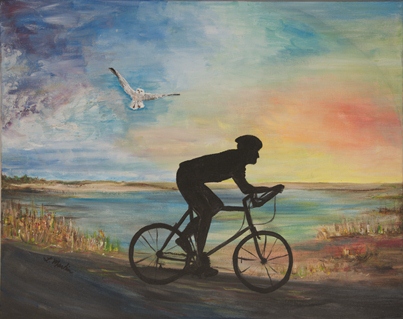 SALISBURY, MD---A painting by Caroline County artist Lisa Martin has been selected as the winner of Salisbury University's 2014 Sea Gull Century Art Contest.

The work features a cyclist's dark silhouette and a lone seagull, backed by marshy Eastern Shore scenery and a colorful evening sky. It is showcased on T-shirts and promotional materials for this year's bike ride across the Lower Eastern Shore on Saturday, September 27. Over 6,000 cyclists are expected.

"The selection of a Sea Gull Century print was a revered tradition for over a decade," said Amy Waters, ride coordinator. "The Sea Gull Century committee selected this painting for its non-specific representation of our riders and the beautiful landscape."

The daughter of two Talbot County teachers, Martin taught elementary, middle and high school art in Caroline County Public Schools for more than two decades. She studied art education at Frostburg State College and earned her M.Ed. from SU.

.: Related Sites :.

.: Related News :.

Martin has produced work in wood, fabric (batik and quilting), watercolor and acrylic. She has studied with Joyce Zeigler and has been a member of the Plein Air Painters of the Eastern Shore. She has participated in shows at Peninsula Regional Medical Center, Chesapeake College and Adkins Arboretum, among others. She serves on the board of directors for the Caroline County Council of the Arts, Inc. Her work may be found at The Foundry, 401 Market Street, Denton, or on Facebook at "Lisa N Martin Art." She and her husband, Harry, reside in Denton.

Martin's original acrylic painting will hang on SU's campus. Merchandise featuring the design will be available in Maggs Gym during the weekend of the ride or online at www.seagullcenturystore.com.

For more information about the contest, contact Alanna McCoy at 410-548-2775 or visit the Sea Gull Century website at www.seagullcentury.org.