Monday, September 8, 2008
Burton Presents $228,544 Donation to Nabb Research Center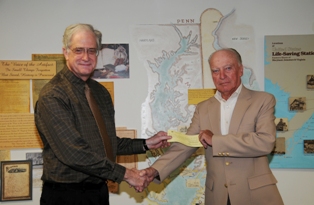 SALISBURY, MD---George C. Burton recently presented a check in the amount of $228,544 to Dr. Ray Thompson, director of the Edward H. Nabb Research Center for Delmarva History and Culture at Salisbury University, from the estate of his brother, Robert Lee Burton Jr.
Through his interest in the preservation of Delmarva history and culture, in 1995 Robert was introducted to the Nabb Center and soon thereafter became a member. Burton had also been a friend of the center's benefactor, Edward H. Nabb Sr., an attorney and philanthropist also of Cambridge.
As Burton was kept apprised of the center's increase in holdings and its service to the citizens of the peninsula, he approached the center's director to discuss his interest in supporting the center in a meaningful way, which culminated in his planned gift to be directed toward the improvement of the reading room and service to the public.
Toward that end, the advisory board of directors of the center voted to rename the reading room the R. Lee Burton Jr. Reading Room with the approval of the foundation. Preliminary plans have begun to enlarge and renovate the reading room.
For more information call 410-543-6312 or visit the Nabb Research Center Web site at http://nabbhistory.salisbury.edu.