Thursday, March 1, 2012
Brigadier General Deener Speaks at SU Monday, March 5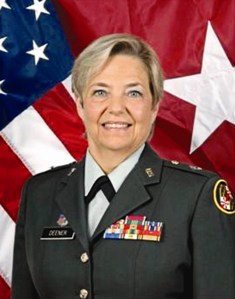 SALISBURY, MD---Maryland Army National Guard Brigadier General Annette M. Deener speaks at Salisbury University Monday, March 5.
Her presentation, "Domestic Ops: The Military in the Community of Salisbury," is 7 p.m. in the Worcester Room of the Commons.
Deener is only the second woman to earn the brigadier general rank in the Maryland Army National Guard. In 2005, she was appointed the organization's chief of staff, overseeing some 5,300 members statewide.
She joined the U.S. Army Reserve after earning her B.S. in studio arts from McDaniel College in 1975. She began her service with the guard in 1978 after receiving her M.S. in business management from Frostburg State University. She received a commission from the guard's officer candidate school as a second lieutenant.
Her first position with the guard was as a medical corps officer, one of the few military careers available to women at the time. She later became a training officer at the Maryland Military Academy and a senior training office at the academy's officer candidate school. As her career advanced, she also became the only person in Maryland National Guard history to hold three directorate-level positions: director of information system management, military personnel and human resources.
Deener has been recognized by the guard with numerous honors, including the Meritorious Service, Army Commendation, Army Achievement, Armed Forces Reserve, National Defense Service, Global War on Terrorism Service, Maryland Meritorious Service, Maryland National Guard Recruiting and Maryland State Service medals. She also has received the Army Service Ribbon and the Maryland Distinguished Service Cross.
Sponsored by SU's Department of Military Science (U.S. Army ROTC) and the Institute for Public Affairs and Civic Engagement (PACE), admission to her talk is free and the public is invited.
For more information call 410-677-5045 or visit the SU Web site at www.salisbury.edu.