Wednesday, March 24, 2010
Bond Represents U.S. on Hans Christian Andersen Award Jury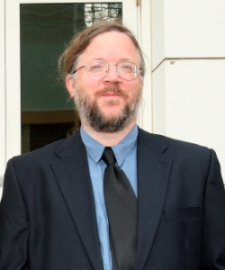 SALISBURY, MD---Salisbury University professor Ernie Bond, a renowned expert in children's literature, is the only American to judge winners of the prestigious 2010 Hans Christian Andersen Award.
Named for the Danish author whose classic tales have delighted children for more than a century, the award is given biennially by the International Board on Books for Young People (IBBY). Considered the Oscar of international children's literature, it recognizes living authors and illustrators whose works have made lasting contributions.
The other 10 members of the jury are from Argentina, Belgium, Brazil, Egypt, Mexico, Slovenia, Spain, Sweden and Switzerland. They were led by Jury President Zohreh Ghaeni of Iran.
Co-chair of SU's Teacher Education Department, Bond teaches children's and young adult literature at SU and has supervised the University's education majors interning in New Zealand schools. He also has taught international children's literature summer courses abroad in Australia and New Zealand; Ireland and Wales; and Iceland, Denmark, Germany and Poland.
The jury first named a shortlist of five authors and five illustrators from among 55 candidates submitted by 32 national sections of IBBY. Jurors then selected the winners, who were announced at the Bologna International Children's Book Fair in Italy. Author David Almond of the United Kingdom was chosen for his use of magic realism in philosophical novels that appeal to children and adults alike, while illustrator Jutta Bauer of Germany won for her originality, creativity and ability to blend verbal and visual language in harmony.
"Being in Europe surrounded by renowned literature enthusiasts was an amazing experience," Bond said. "I explore works by many of these honored authors and illustrators with my students."
Bond was selected for the jury through his membership in the United States Board on Books for Young People. He also is involved with the International Reading Association, the State of Maryland International Reading Association Council and the National Council of Teachers of English.
Bond earned his Ph.D. in education from The Ohio State University. He has authored and co-authored books including Interactive Assessment and Literature and the Young Adult Reader, chapters in Harry Potter's World, articles in Theory into Practice, and the Journal of Children's Literature, and book reviews in Bookbird and the School Library Journal.
In 2007, Bond was the Eastern Shore's first Maryland Professor of the Year, selected by the Carnegie Foundation for the Advancement of Teaching and the Council for Advancement and Support of Education. He also is a recipient of the University System of Maryland's highest faculty honor: the Regents Award for Teaching Excellence.
For more information call 410-543-6030 or visit the SU Web site at www.salisbury.edu.