Friday, September 6, 2013
Blackwell Library Exhibit Tells the Story of SU's Campus School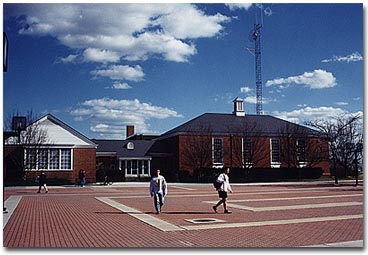 SALISBURY, MD---When Salisbury University opened in 1925, not all of its students were in college.
That first year, those studying to be educators taught a small group of elementary school students in a room in Holloway Hall that would become known as the campus' "demonstration school."
SU's Blackwell Library traces the history of that school through the exhibit "From Campus School … to Caruthers … to the Commons." Featuring photos and news clippings, the display will remain at the library through Tuesday, October 1.
Also included are examples of books read in that early classroom, with titles including Storyland, Rainbow Readers and Julius the Street Boy by Horatio Alger Jr.
In 1955, the school moved into a new building, named in honor of Dr. T.J. Caruthers, a founding SU faculty member who served as the University's interim principal in 1934. He retired from SU prior to the school's dedication in 1956.
One of the key people in making the T.J. Caruthers Campus School a reality was E. Pauline Riall, who began teaching at the demonstration school in 1929. She served as the school's acting principal in 1945 and from 1950-1953 before becoming its principal from 1954 until it closed, under a state mandate to discontinue all "laboratory schools" in 1969.
Following the school's closing, the building became Caruthers Hall, serving SU's Education Department until the opening of the Teacher Education and Technology Center in 2008. It then became an interim home for the Franklin P. Perdue School of Business until the opening of Perdue Hall in 2011. Today, it continues to provide space for Delmarva Public Radio.
For more than half a century, the campus around Caruthers Hall has grown, as demonstrated by a series of aerial photographs in the display. The building is scheduled to be demolished next year to make room for additional growth with the construction of SU's Patricia R. Guerrieri Academic Commons.
"We are carrying the tradition of learning embodied in the Caruthers School through the new academic commons," said David Ranzan, University archivist.
The exhibit is available for viewing during library hours. Admission is free and the public is invited.
For more information call 410-543-6030 or visit the SU Web site at www.salisbury.edu.