Friday, March 7, 2014
Bestselling Author Wes Moore Speaks at SU Monday, March 10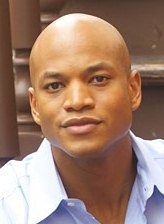 SALISBURY, MD---Bestselling author Wes Moore speaks about his experiences 7 p.m. Monday, March 10, in the Wicomico Room of Salisbury University's Guerrieri University Center.
In December 2000, Moore made headlines in the Baltimore Sun. The local student was proud of the small article that announced his recently being named a Rhodes Scholar. However, it was another story in the same issue that caught his attention: Police were searching for two suspects who had allegedly killed an officer in an armed robbery, one of whom shared his name, Wes Moore.
The coincidence haunted the scholar student, who went on to become a combat veteran, White House Fellow and business leader. Following his namesake's conviction, he wrote to the man then beginning his life sentence, asking him two pointed questions: "Who are you? How did this happen?" The correspondence led to a relationship chronicled in the New York Times bestseller The Other Wes Moore.
Through more letters and several in-person visits, the Moores learned they were not that different from one another. Both had grown up in similar neighborhoods, had difficult childhoods and were both fatherless. They had hung out on similar corners with similar friends, and both had run into trouble with police at a young age. Only the choices they made led to their astonishingly different lives.
Sponsored by the Student Organization for Activity Planning (SOAP), admission is free and the public is invited. For more information call 410-543-6125 or visit the SU website at www.salisbury.edu.