Wednesday, March 16, 2016
Bernstein Earns Perdue Leadership Award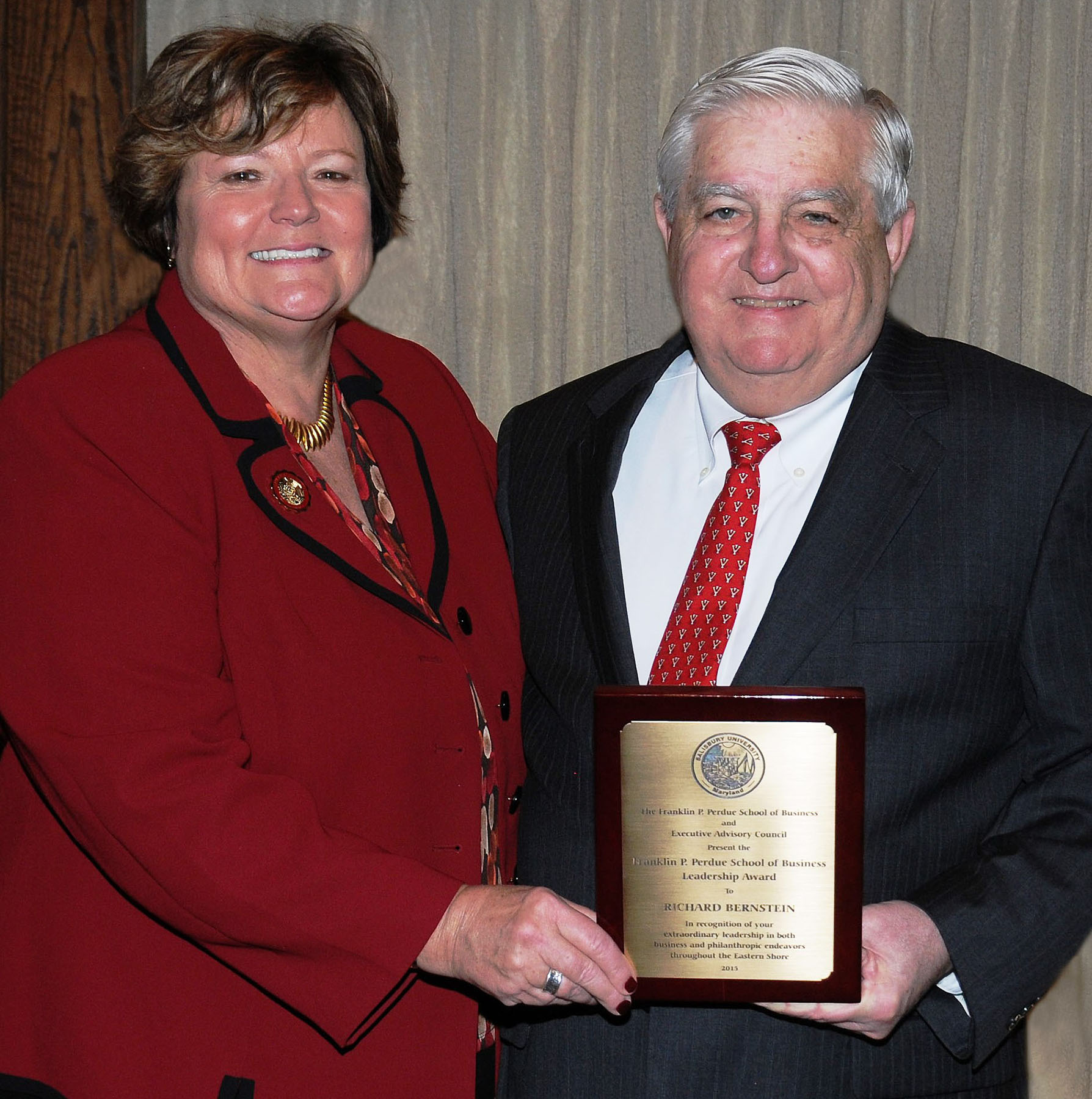 SU President Janet Dudley-Eshbach presents the Perdue Leadership Award to Richard Bernstein

SALISBURY, MD---In 1986, Richard Bernstein endowed a student business plan competition at Salisbury University that has grown into an annual $100,000 event, culminating each year with the Bernstein Achievement Award for Excellence.

When the University's Franklin P. Perdue Museum of Business and Entrepreneurship opened in 2011, exhibits spotlighted the business savvy of not only the Perdue family, but of Bernstein, as well.

Recently, the Maryland entrepreneur's legacy at SU grew even stronger as he accepted the 2016 Perdue Leadership Award from the University's Franklin P. Perdue School of Business.

Bernstein — and the companies he founded — are well known in Salisbury and beyond. A native of Pennsylvania, he grew up in Chincoteague Island, VA. He opened K&L Microwave, Inc., in Salisbury in 1970, serving as president and CEO of the company for more than two decades. Its success and growth into the world's largest supplier of microwave components, used in defense, space and communications equipment, led to an expanding technology industrial base on the Eastern Shore.

His additional business interests have included the pewter and silver giftware producer Salisbury, Inc.; Machining Technologies, Inc. (MaTech), which specializes in high-tech fabrication for the defense industry; Waterside Village, a mixed-use shopping and commercial center in Talbot County, MD; REB Holdings, Inc., a private investment company; and the unmanned aircraft, avionics and sensor producer BAI Aerosystems, from which he is retired.

Bernstein has been named Ernst & Young's Maryland Entrepreneur of the Year and Maryland's Small Business Person of the Year, among other honors.

"Richard Bernstein has long shown support for SU and its students, not only by founding what is now our Student Entrepreneurship Competitions, but by serving as a role model — and sometimes even employer — for our graduates and many others throughout the region," said Dr. Christy Weer, dean of the Perdue School. "He is the epitome of the spirit of entrepreneurship and business leadership we work to instill through our programs."

The name of each year's Perdue Leadership Award winner is engraved on a plaque in the Perdue School. Each honoree also receives a commemorative award.

For more information call 410-543-6030 or visit the SU website at www.salisbury.edu.