Wednesday, April 13, 2016
'Beautiful Swimmers Revisited' Film, Panel Discussion Set at SU April 13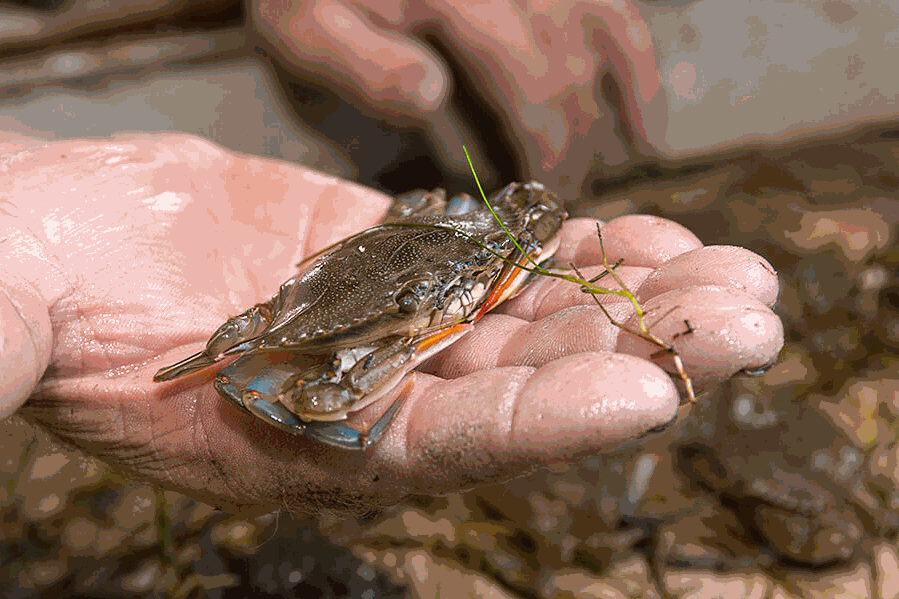 SALISBURY, MD---Is the Chesapeake Bay blue crab doomed to extinction?

According to Tom Horton, award-winning author and professor of practice in Salisbury University's Environmental Studies Department, the answer is … no. In fact, despite many years of concern among environmental agencies, the species is doing quite well.

Last year, Horton joined with photographer and frequent collaborator David Harp, and filmmaker Sandy Cannon-Brown to investigate the state of the blue crab. The resulting documentary, Beautiful Swimmers Revisited, retraced the crustacean's history — and offered a glimpse at its future — 40 years after the release of William Warner's 1976 Pulitzer Prize-winning book Beautiful Swimmers: Watermen, Crabs and the Chesapeake Bay.

Horton hosts a screening of the film as part of SU's Environmental Studies Colloquium Series 7 p.m. Wednesday, April 13, in Henson Science Hall Room 243. As part of the presentation, he also leads the panel discussion "Crabs, Crabbing and the Chesapeake Bay," featuring watermen interviewed in the documentary, as well as crustacean scientists from the Smithsonian Institution and other organizations.

"If there's a hero of this film, it's science," said Horton. "We know a heck of a lot more about crabs and the bay, and how to manage crabs, than we did 40 years ago."

Scientific advancement in the past four decades has allowed conservation officials to perform more accurate crab counts, which has led to better population management, he said. In addition, scientists now know that factors such as wind speed and direction, which play a part in moving crab spawn throughout the bay, determine whether watermen will have a "good" crab year or a "bad" one.

The story could have had an entirely different outcome. In the early 21st century, the blue crab was in serious danger, Horton said. Conservation efforts in Maryland and Virginia — both covered in the documentary — helped bring the population up to where it is today.

While crab numbers may never again reach the highs they saw from the late 1800s through the 1950s — a period when overharvesting was rampant — Horton said the more important lessons were those learned about sustaining the population that remains.

"The movie, overall, is optimistic," he said. "We've stabilized crabs, and we've got management down. But we still don't know everything."

One question that still remains is an equitable way to ensure watermen continue to have access to the crabs they depend on for their livelihoods while making sure the crustacean population continues to thrive, he said.

Horton, Harp and Brown made sure those watermen had their say in the film, along with state and ecological experts. Two of those interviewed for the film — Morris Goodwin Marsh of Smith Island, MD, and Grant Corbin of Deal Island, MD — also were featured in the book. They continue plying their trade more than 40 years after their initial contact with Warner.

An initiative of the Bay Journal (for which Horton is a columnist) and its parent organization, Chesapeake Media Service, the documentary was made with approval from Warner's family (the author passed away in 2008, at age 88).

"Warner's book has never been out of circulation," said Horton. "Nothing published since, including James Michener's blockbuster Chesapeake, has surpassed it."

The documentary marked Horton and Harp's first film collaboration, though the duo has published a number of books together, including the John Burroughs Medal-winning Bay Country.

Horton, who covered the environment for the Baltimore Sun for 35 years, has earned a number of national environmental honors, including the Sierra Club's prestigious David Brower Award and accolades from the Chesapeake Bay Foundation and Audubon Society. In 2015, he was recognized as an "Admiral of the Chesapeake," the Maryland Governor's Office's highest honor for environmental contributions.

Those who are unable to attend SU's screening of Beautiful Swimmers Revisited will have additional opportunities to view the film. It premieres during the Environmental Film Festival in Washington, D.C., on Saturday, March 19. Maryland Public Television will air the documentary at 9 p.m. Tuesday, April 26, as part of its Chesapeake Bay Week programming.

Sponsored by the Environmental Studies Department, admission to the SU screening and discussion is free, and the public is invited. For more information call 410-543-6030 or visit the SU website at www.salisbury.edu.