Wednesday, August 18, 2010
Beam Signing Celebrates Sea Gull Square 'Topping Out'
SALISBURY, MD---Salisbury University celebrated the "topping out" of Sea Gull Square, the campus' first residence hall-retail complex, with a beam-signing ceremony on Wednesday, August 18.
Autographing one of the final structural beams that will be laid into place are, from left, W. Blair Rinnier, CCIM, CPM, of Rinnier Development Company, the project developer; Betty Crockett, SU vice president of administration and finance; SU President Janet Dudley-Eshbach; Dr. Ellen Neufeldt, SU vice president of student affairs; Rich Vogel, senior vice president of general contractor Whiting-Turner; and Bob Keane, partner with designer WDG Architecture.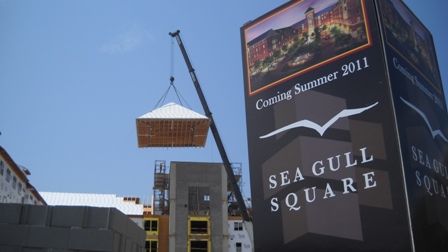 A few days earlier, construction crews "topped" the building, lowering the final roof support onto the square's tower.
At 230,000 square feet, the five-story, $45 million project, located on the site of the former Allenwood Shopping Center, also will become main campus's largest residence hall with 605 beds. It is scheduled to open in fall 2011.
For more information call 410-543-6030 or visit the SU Web site at www.salisbury.edu.