Friday, October 17, 2008
Bardzell Earns Distinguished MAA Haimo Award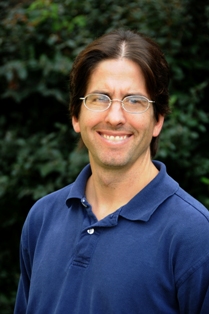 SALISBURY, MD---Dr. Mike Bardzell of Salisbury University's Department of Mathematics and Computer Science is known for engaging students with lighthearted humor coupled with in-depth exploration of research topics.
For such efforts, he has been recognized with the Mathematical Association of America's (MAA's) top teaching honor: the prestigious Deborah and Franklin Tepper Haimo Award for Distinguished College or University Teaching of Mathematics.
Bardzell is one of only three educators in the nation chosen to receive the award this year.
"It was quite a surprise," he said. "My colleagues in my department have been my inspiration. I'm very proud of the students I've had, especially my research students, who have gone on to some wonderful things."
Two of those students, SU alumnae Val Laurushchyk and Nicole Juersivich, have high praise for their former professor and mentor.
"He is an amazing educator, a very caring teacher with a great sense of humor and super-friendly personality," said Laurushchyk, now attending graduate school at Texas Technical University. In true mathematical fashion, she added that Bardzell taught "63 percent of my mathematics courses at SU."
Juersivich called Bardzell an "enthusiastic teacher who inspires and encourages his students to realize their potential in mathematics and anything they are passionate about," adding, "If it weren't for him and other great mathematics professors at Salisbury, I wouldn't have gone on to work for my own Ph.D. in mathematics education [at the University of Virginia], in hopes to be as inspiring and effective as they were."
During his 12 years at SU, Bardzell has taught some 24 courses at all levels of curriculum. He strongly encourages undergraduate research, assisting students in exploring subjects from physics and engineering to pure mathematics and group theory. Almost every year, he has had a student present at the National Conference on Undergraduate Research (NCUR) and numerous students speak locally.
"Bardzell excels in all areas of faculty responsibility but his finest accomplishments are in teaching," said Dr. Kathleen Shannon, chair of the department, who nominated him. "His casual and informal style within classroom, where he uses humor and encourages students to do the same, creates an effective learning atmosphere, which I believe has led to greater numbers of majors participating in undergraduate research and discipline-related extra-curricular activities and to greater numbers of our alumni in graduate programs."
In collaboration with colleagues, Bardzell also has successfully obtained two National Science Foundation grants for curriculum development and support of undergraduate research. A recipient of SU's Distinguished Faculty Award in 2001, he has played an integral role in the establishment of Undergraduate Research Conference on campus.
Outside of the classroom, Bardzell was a longtime advisor to SU's Math Club and helped students establish a chapter of Pi Mu Epsilon, the national mathematics honor society. Locally, he helped develop summer geometry courses, a Real World Mathematics professional development program and an algebra workshop for middle school teachers.
The MAA award honors faculty for extraordinary success and teaching effectiveness that influences others beyond their institutions. During his acceptance at the MAA's Joint Mathematical Meetings conference in January, Bardzell presents the talk "From Groups to Graphics—Stories of Undergraduate Research in Visualizing Abstract Mathematics."
Bardzell earned his Ph.D. in Mathematics from Virginia Tech University in 1996. This is not the first time the MAA has honored him. In 2007 he received the association's Award for Distinguished College or University Teaching of Mathematics for the Maryland, Virginia and Washington, D.C. region.
For more information call 410-543-6030 or visit the SU Web site at www.salisbury.edu.