Friday, September 5, 2008
Baltimore Consort Performs at SU September 24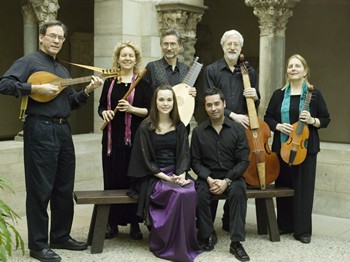 SALISBURY, MD---Playing a program of Spanish Renaissance music, the Baltimore Consort performs at Salisbury University 7 p.m. Wednesday, September 24, in Holloway Hall Auditorium. The concert is part of SU's Renaissance fall cultural events series.
During "¡Cancionero! Romances, Villancicos, & Improvisations of Spain, circa 1500," the internationally acclaimed Baltimore Consort takes a musical journey through the intercultural history of late 15th century Spain. Featured is award-winning Spanish vocalist José Lemos, a countertenor.
"Few early music players have more fun making music than the Baltimore six, who through their performances, take the position that echoes of renaissance secular music are still to be found in modern folk practice," said The New Yorker magazine.
The Baltimore Consort has performed on syndicated radio programs and for audiences on both sides of the Atlantic Ocean, from Europe to the Walters Art Gallery and the Peabody Conservatory of Music in Baltimore. It also has recorded 13 CDs, some of which earned a place on Billboard Magazine's Top-Ten list.
The Baltimore Consort performance was made possible, in part, by a grant from the Salisbury Wicomico Arts Council, awarded by the Maryland State Arts Council and the National Endowment for the Arts. Sponsored by the Office of Cultural Affairs, admission is free and the public is invited. For more information call 410-219-2872 or visit the SU Web site at www.salisbury.edu.