Friday, November 11, 2016
Award-Winning Band Bumper Jacksons to Perform at SU November 12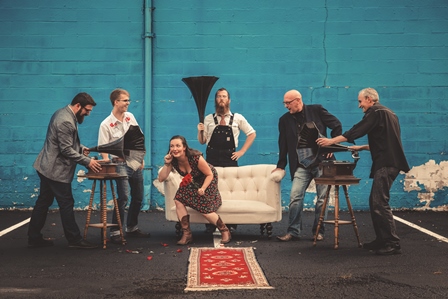 SALISBURY, MD---Scraping together new sounds from forgotten 78s, the Bumper Jacksons tell America's musical story from New Orleans to Appalachia, paying homage to jazz, blues and country swing traditions while forging a new, unique style.

The award-winning band performs at Salisbury University 7 p.m. Saturday, November 12, in Holloway Hall Auditorium.

Honored as the Artist of the Year in 2015 and Best Folk Band from 2013-2015 by the Washington Area Music Awards, the Bumper Jacksons are playfully creative with their originals, re-imagining roots music. Their album Too Big World was released in 2015.

The group includes Jess Eliot Myhre on clarinet, vocals and washboard; Chris Ousley on guitar, vocals and tenor banjo; Alex Lacquement on bass and harmony vocals; Dan Samuels on percussion; Dave Hadley on pedal steel guitar; and Brian Priebe on trombone and harmony vocals.

"If you miss the slightly punky 1930s-style hot jazz of the Squirrel Nut Zippers, then you owe it to yourself to check out the slightly countrified 1930s-style hot jazz of the Bumper Jacksons," said CD Hotlist. The Alternate Root raved, "Bumper Jacksons are bringing sexy back for back alley jazz."

Sponsored by the Cultural Affairs Office, admission is free and the public is invited. For more information call 410-543-6271 or visit the SU website at www.salisbury.edu.