Friday, February 24, 2012
Award-Winning Author Draper is Spring Riall Lecturer Tuesday, March 6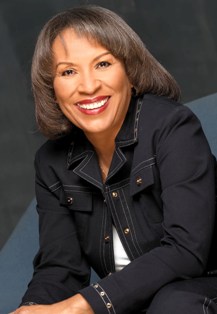 SALISBURY, MD---Sharon M. Draper is an educator not only in the classroom, but in the bookstore.

The teacher and five-time Coretta Scott King Literary Award-winning author discusses "Literacy, Laughter and Learning: A Successful Education Design" as this semester's E. Pauline Riall Lecturer in Education at Salisbury University. Her presentation is 7:30 p.m. Tuesday, March 6, in Holloway Hall Auditorium.

Afterward, she signs copies of two of her books: Out of My Mind, a novel for young adults, and Not Quite Burned Out But Crispy Around the Edges, for teachers.

Draper is best known as the author of books for young readers and teens. Her popular titles include the Jericho trilogy (The Battle of Jericho, November Blues and Just Another Hero), the Hazelwood trilogy (Tears of a Tiger, Forged by Fire and Darkness Before Dawn), the Sassy series and the Ziggy and the Black Dinosaurs series.

She has written several New York Times bestsellers and been honored by organizations including the American Library Association and Booklist. Her works have won the Parents Choice Award and been nominated for the NAACP Image Award for literature, among others.

She has been lauded six times at the White House and was chosen as one of only four authors in the country to speak at the National Book Festival Gala in Washington, D.C., and to represent the United States at the International Open Moscow Book Festival in Russia.

Her book Copper Sun has been selected by the U.S. State Department and the International Reading Association as the U.S. novel for the Reading Across Continents international reading project. Students in the United States, Nigeria and Ghana are reading the book and sharing ideas to facilitate a true intercontinental, cross-cultural experience.

Her education honors are equally impressive. She was selected as Ohio's Outstanding High School Language Arts Educator and Teacher of the Year, and was chosen as a National Council of Negro Women Excellence in Teaching Award winner. She has received the Milken Family Foundation National Educator Award and the Ohio Governor's Educational Leadership Award.

Celebrating its 24th season, the E. Pauline Riall Lecture Series is named in honor of its founder, the long-time principal and teacher at SU's Campus School. The series' purpose is to bring to the University and community outstanding national lecturers in the field of education.

Sponsored by the Samuel W. and Marilyn C. Seidel School of Education and Professional Studies, admission to her March 6 lecture is free and the public is invited. She speaks with SU students on "Children and Adolescent Literature" during an open session 11 a.m. Wednesday, March 7, in the Great Hall of Holloway Hall.

For more information call 410-543-6393 or visit the Riall Lecture Series Web site at www.salisbury.edu/educationspecialties/riall_lecture.html.