Wednesday, June 26, 2013
Award-Winning Actor Beaty Performs at SU Thursday, July 11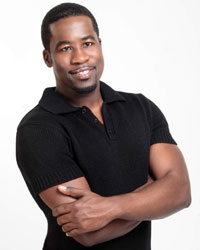 SALISBURY, MD---Award-winning actor Daniel Beaty performs his critically acclaimed one-man play Emergency 7:30 p.m. Thursday, July 11, in the Wicomico Room of Salisbury University's Guerrieri University Center.
The performance, benefiting the Salisbury Wicomico Arts Council (SWAC), is presented as part of SU's Maryland Summer Center for the Arts, a two-week residential program for middle and high school students throughout the state.
The Obie Award-winning play combines slam poetry and song as Beaty portrays 40 different individuals reacting to the sight of a slave ship that mysteriously emerges in front of the Statue of Liberty. Characters offering their take on the unexpected phenomenon include a homeless man, scientist, business executive, street vendor and pre-teen from the projects, providing a commentary on freedom and humanity. The off-Broadway production was presented to sold-out crowds during an extended run at the Public Theatre.
New York Magazine called it "funnier than most serious plays and vastly smarter than most funny plays," adding it was "the most intriguing new show of the season." NYTheatre.com hailed it as "the most important new American drama since Angels in America."
Beaty has received accolades from critics and colleagues alike. A two-time winner of the NAACP Theatre Award, including one for best actor, he has worked throughout the United States, Europe and Africa, performing with Ossie Davis, Tracy Chapman and Phylicia Rashad, among others. In addition, he received the Scotsman Fringe First Award for best new writer at the Edinburgh Festival and was presented with a Lamplighter Award from the Black Leadership Forum in Washington, D.C.
Beaty's other theatre works have included Through the Night, Breath & Imagination – The Story of Roland Hayes and The Tallest Tree in the Forest. Beyond the stage, he has written a children's book, based on his poem Knock Knock, as well as a spoken-word ballet, Far But Close, which the Dance Theatre of Harlem debuted in 2012. He also is an adjunct professor at Columbia University.
His Salisbury performance is funded through SWAC's Nancy and Robert Allen. To reserve tickets call 410-543-ARTS or visit SWAC's Web site at www.GetSWAC.org. Tickets also are available at the SWAC office, 104 Poplar Hill Ave., Salisbury, and at area Bank of Delmarva branches.
For more information on the Summer Center for the Arts, call 410-548-4777, ext. 2, or visit the center's Web site at www.salisbury.edu/msca.