Wednesday, August 15, 2012
Auditions for 'The Sin That Kills' August 27-29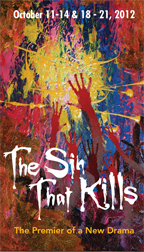 SALISBURY, MD---Salisbury University's Bobbi Biron Theatre Program hosts open auditions for this fall's presentation of The Sin That Kills 7-9 p.m. Monday-Wednesday, August 27-29, in the Black Box Theatre of Fulton Hall.

Based on the 1590 North Berwick witch trials in Edinburgh, Scotland, The Sin That Kills is an original play by Dr. T. Paul Pfeiffer, chair of the Theatre and Dance Department. All characters but one speak in a Scottish dialect.

A detailed list of roles, along with a working draft of act one, is available on the SU Theatre and Dance Department Web site at www.salisbury.edu/theatreanddance. Readings will be taken from this act. Those auditioning are asked not to reproduce the script due to potential copyright infringement. Printed copies will be available at auditions.

Script memorization and costumes are discouraged at the auditions; however, actors should demonstrate an understanding of their characters' intentions, wear proper shoes and choose clothing that allows ease of movement.

Rehearsals are 7-10 p.m. Sundays-Fridays. Show times are 8 p.m. Thursdays-Saturdays, October 11-13 and 18-20, 2 p.m. Sundays, October 14 and 21.

For more information e-mail Pfeiffer at tppfeiffer@salisbury.edu.