Thursday, January 11, 2018
Assad Brothers, Avital Perform at SU February 13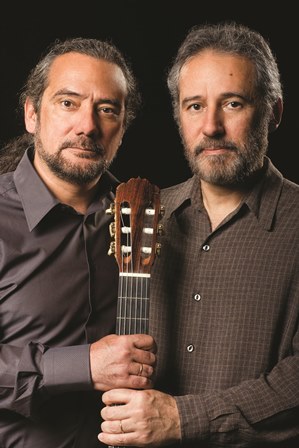 SALISBURY, MD---Brazilian-born guitarists Sérgio and Odair Assad team up with Israeli mandolin player Avi Avital for a concert at Salisbury University 7 p.m. Tuesday, February 13, in Holloway Hall Auditorium.
Their program explores both their classical repertoire and traditional Choro music, a popular genre in Brazil known for its upbeat rhythms.
The concert includes selections from Bach's "Sonata in E Major," Haydn's "Sonata No. 50 in D Major," Debussy's "La Plus Que Lente," Bartók's "Romanian Folk Dances," Piazzolla's "Historie du Tango," Marc Lavry's "Three Jewish Dances," Jacob Biottencourt's "Santa Morena" and "Assanhado," and Pixinguinha's "Glória."
The Washington Post has called the Assads "the best two-guitar team in existence, maybe even in history." The Times of London has praised
Avital's "sweet-voiced mandolin, played with rare grace, guts, flair and daring."
Sponsored by the Cultural Affairs Office, admission is free and the public is invited. For more information call 410-543-6271 or visit the SU website at www.salisbury.edu.