Thursday, April 6, 2017
Ashley Rhodes-Courter Is Spring Riall Lecturer at SU Thursday, April 13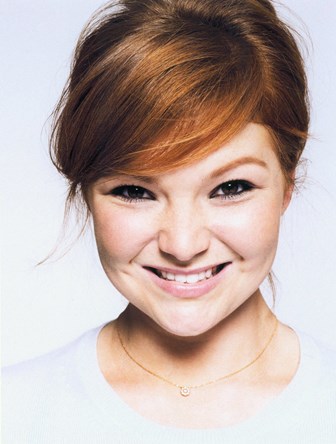 SALISBURY, MD---Ashley Rhodes-Courter spent nine years in foster care. She recounted the horrors she suffered — and opened the eyes of many to a broken system — in her 2008 New York Times bestselling memoir Three Little Words.

She discusses her situation as this semester's speaker in Salisbury University's E. Pauline Riall Lecture Series in Education. Her presentation, "Three Little Words," is 6:30 p.m. Thursday, April 13, in Holloway Hall Auditorium.

Despite her ordeal, which lasted from ages 3-12, she excelled in school because she believed that "my education was the one thing nobody could take from me."

She earned Eckerd College's full-tuition Trustee Scholarship, graduating with honors and ahead of schedule with a double major in communications and theatre before going on to complete her M.S.W. at the University of Southern California.

As an undergraduate, she was selected as one of 20 students in the nation for USA Today's All-USA Academic team and was named one of Glamour's "Top Ten College Women," in part due to her advocacy for children in abusive foster homes.

The national change organization "Do Something" four times honored her with its Golden BR!CK Award, called "the Oscar of youth service," landing her image on 25 million bags of Doritos as part of a nationwide advocacy campaign.

She also has received the North American Council on Adoptable Children's Youth Advocate of the Year Award, the Child Welfare League of America's Kids to Kids National Service Award and two Angels in Adoption Awards from the Congressional Coalition on Adoption.

Rhodes-Courter has appeared on Today, Good Morning America, Nightline, Nancy Grace and The Montel Williams Show, among other national media outlets. In 2009, she hosted the State of Florida-produced TV program Explore Adoption, which won an Emmy.

She also was selected to represent and mentor as part of Levi Strauss & Co.'s "Shape What's to Come" campaign, an online global community for women offering opportunities to exchange ideas, collaborate and support one another. Her work with the initiative was highlighted at the TED Women's Conference in Washington, D.C.

In addition to her efforts domestically, Rhodes-Courter has spent time studying and advocating in Europe, South Africa and China. In her local community, she has served as a volunteer guardian ad litem and as a foster parent, caring for more than 25 children. Her eldest son was adopted from foster care.

She chronicled many of these efforts in her second book, Three More Words, which debuted as a No. 1 bestseller in 2016.

The E. Pauline Riall Lecture Series is named in memory of its founder, teacher and later principal at SU's Campus School from 1929-1969. Upon her death in the late 1980s, she left a bequest providing funding for the lecture series, scholarships and an award given annually to an outstanding graduating elementary or early childhood education major.

Sponsored by the Samuel W. and Marilyn C. Seidel School of Education and Professional Studies, admission is free and the public is invited. Space is limited.



For more information call 410-543-6335 or visit the Riall Lecture Series website at www.salisbury.edu/educationspecialties/riall_lecture.html.