Thursday, May 30, 2013
'Artists of the Eastern Shore' Gift Depicts 'Eastern Shore Blues'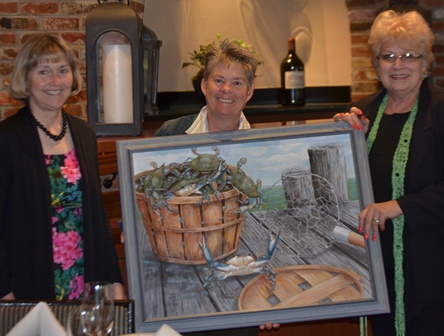 From left: Dr. Amy Stephens Meekins, Dr. Carol Wood and artist Janet Taylor Melfa Baker.

SALISBURY, MD---Dr. Carol Wood, interim dean of the Samuel W. and Marilyn C. Seidel School of Education and Professional Studies at Salisbury University, recently accepted the eighth addition to the Artists of the Eastern Shore Collection established by Dr. Amy Stephens Meekins and family.

The collection hangs in the Teacher Education and Technology Center and includes works by W. Robert Tolley, Beebe M. Winterbottom, Paul Lockhart, Myrna C. McGrath, Patrick Henry, Sarah Kagan and Lynne Lockhart. Artists of the Eastern Shore provides a legacy of artistic interpretations of life on the Eastern Shore of Maryland. It features artists who live on the Shore and whose artwork highlights some element of regional life.

The eighth gift is the original painting "Eastern Shore Blues" by Caroline County artist Janet Taylor Melfa Baker.

"A collection of paintings focusing on Eastern Shore traditions would not be complete without representation from the famous blue crab, and Eastern Shore Blues fulfills this need through the meticulous attention to detail achieved by Baker," said Meekins. "Eastern Shore Blues depicts a realistic dockside interpretation of the familiar 'bushel of blues.' Baker's painting of this facet of our Eastern Shore heritage is a perfect fit for the collection, as is her interest in this familiar scene from life on the Shore."

Baker has proven herself as a versatile artist. Her eclectic portfolio includes graphic design, lettering and screen painting, as well as paintings. She is accomplished in several mediums such as oils, acrylics, pastels and pen and inks, and utilizes a variety of painting surfaces such as wood, stone and oyster shells, in addition to the more traditional canvas.

Examples of her versatility include hand-lettering a 32-foot-by-15-foot banner that was flown over Oriole Park at Camden Yards on opening day for the Baltimore Orioles and reviving the old folk art technique of screen painting. Through this unique style, the painting allows viewers to see out, yet not in, through the screens.

Designing gemstone jewelry is another art form Baker has explored in recent years. Using gemstones that are cut and polished by her lapidary artist husband, James Baker, she designs imaginative, one-of-a-kind selections. Her recent focus has been on the bounty of the Eastern Shore waters, including detailed realistic renderings of the Shore's famous blue crabs and oysters.

"It is a privilege to capture the beauty that surrounds us on the Shore and share it in a painting," she said.

Baker's work may be seen at Just Yesterday at 317 High Street in Cambridge, MD. Her studio is located in Denton, MD. She also is available for commissioned work and may be reached via email at artistjan89@msn.com.

In addition to artistically enhancing the TETC, the Artists of the Eastern Shore collection provides students with a unique artistic glimpse of the landscapes that surround them as they live and pursue their academic endeavors at SU. The Meekins' gift will continue over the next year, with additions to the collection planned for the fall and spring semesters.

Artists work with University representatives to determine an artistic rendering that meets the goals of the collection and best exemplifies the work of the artist. Artists are paid an honorarium for their work, funded by the Meekins family. When complete, the collection is scheduled to feature 10 artists on the Shore whose work best exemplifies the area.

The next painting in the series will be completed by Deborah Coffin Kennedy, who will explore the area's agricultural bounty through her rendering of a roadside produce stand. Kennedy's work is expected to be presented in late summer or early fall.

The final artist to be featured in the collection is Alane Ortega of Quarter Creek in Deal Island, MD. Ortega is a mosaic artist who creates small functional accessories and decorative two-dimensional wall art. Her creations often are familiar Shore images.

Her contribution to the collection will feature a mosaic of a sailboat regatta uniquely created using tiles from Caruthers Hall, which once housed SU's demonstration school. It is scheduled to be presented in late fall.

For more information call 410-543-6030 or visit the SU Web site at www.salisbury.edu.