Tuesday, July 8, 2014
Anderson Debuts New Play at Edinburgh Festival Fringe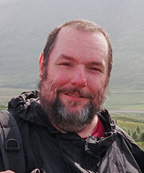 SALISBURY, MD---Tom Anderson of Salisbury University's Theatre and Dance Department is no stranger to Scotland's acclaimed Edinburgh Festival Fringe.

This year, however, he will see the arts festival from a new angle as he debuts his original play Sins of Seven Tables.

The production provides a modern look at the seven deadly sins — wrath, greed, sloth, pride, lust, envy and gluttony — as embodied by patrons at seven tables in a restaurant. Diners depicting the best and worst of human behavior include swinging couples, vengeful and violent housewives, and slacker college students.

A seven-year Festival Fringe veteran, Anderson has directed and produced four previous offerings at the event: tits and blood by neil labute (sic, 2006), The Meeting by Jeff Stetson (2010), Andrea's Got Two Boyfriends by David Willinger (2011) and Land of the Dead/Helter Skelter, also by LaBute (2012).

"I first came to the Fringe in 2003 with a new play, a one-woman show about British actress Fanny Kemble, Mrs. Kemble's Tempest, by my friend and colleague, Tom Ziegler," he said. "As technical director, I did a walk-on to strike a flower vase. I was transformed. I fell in love with my own craft again. I had to return."

In addition, Anderson, a native of Greenacres, WA, is the founder of the New Salisbury Players, which performs Sins of Seven Tables. Established in 2010, the troupe's current members include SU students Michelle Cassel of Owings Mills, MD; Eleni Lukaszczyk of Ellicott City, MD; Ide Owodiong-Idemeko of Annapolis; and Alex Socras of Manasquan, NJ; and alumni De'Vonte Perry of Cambridge, MD; and Dayton Young of Frederick, MD.

Sins of Seven Tables premieres at the festival Friday, August 1, with performances continuing six nights weekly through Saturday, August 23.

For more information call 410-543-6030 or visit the SU website at www.salisbury.edu.