Wednesday, October 26, 2016
An Evening of Percussion at SU Thursday, November 17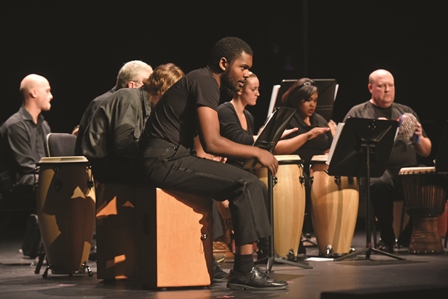 SALISBURY, MD---Salisbury University's World Drum and Percussion ensembles present "An Evening of Percussion" 7:30 p.m. Thursday, November 17, in Holloway Hall Auditorium.

The World Drum Ensemble, directed by Ted Nichols, features two dances from West Africa inspired by Mamady Keita, who helped introduce the djembe drum to the world. "Kassa" is a harvest-dance of the Malinke of East Guinea. "Sorsornet" is a rhythm of the Baga. Its accompanying song expressing young girls' gratitude to their mothers. Both feature the Amp! African dance ensemble, directed by Kimberly Clark-Shaw, with SU students.

Additional selections include "Bembe," a rhythm from Cuba that has become a large part of the Afro-Cuban folkloric culture, and "Mobasa," inspired by the African rhythm and blues scene in Germany, popularized by the band Mombasa, in the 1970s. The song's final section is further inspired by Hans Zimmer's soundtrack from the 2010 Leonardo DiCaprio movie Inception.



The Percussion Ensemble, directed by Eric Shuster, features Julia Perry's Homunculus, C.F. for harp and percussion orchestra, as well as a special 80th birthday tribute to composer Steve Reich with a performance of his Music for Mallet Instruments, Voices and Organ.

Sponsored by the Music, Theatre and Dance Department, and SU's Fulton Public Humanities Program, admission is free and the public is invited. For more information call 410-548-5588 or visit the SU website at www.salisbury.edu.