Friday, January 12, 2007
'American Masters of Photography' Exhibit January 19-April 8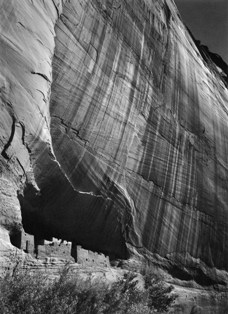 White House Ruin, Canyon de Chelly National Monument, Arizona, 1942
Copyright 2006 The Ansel Adams Publishing Rights Trust. Used with permission of the Ansel Adams Publishing Rights Trust. All rights reserved.
From the grand picturesque landscapes of Ansel Adams to the portraits of 20th century leaders captured for posterity by Yousuf Karsh, photographers have documented history in artwork that only a camera could produce.
As part of its "American Master Photographers" spring art series, the University Galleries at Salisbury University presents the exhibit "20th and 21st Century American Masters of Photography" January 19-April 8 in the University Gallery of Fulton Hall. Photographs on display were selected from SU's collection of photographic prints, established in 1993.
Along with Adams and Karsh, 26 other artists are featured in the exhibit including, among others; Harry Callahan, Edward Weston, Elliot Porter, Paul Strand, Imogene Cunningham, Wynn Bullock, George Dewolfe, Minor White and Aaron Siskind. Photographs range from the natural to the abstract.
Adams is internationally known as a "Purist" for his promotion of "straight" photography and is credited with the creation of the zone system. As an early member of the Sierra Club, his photographs played an important roll in the 20th century environmental movement. His student, Harry Callahan, continued the landscape tradition.
In a career that spanned more than 50 years, Eliot Porter pioneered the use of color photography and played a central role in bringing about the widespread acceptance of color photography as an artistic medium. Porter established a tradition of photographing portraits of endangered places from Maine to the Galapagos. Photographers Middleton and Liittschwager continue this tradition by documenting the vanishing animal and plant world. Some 100 of their Endangered Species portraits are on permanent display throughout SU's Henson Science Hall. Strand photographed world communities and cultures as a student of sociologist Jacob Riess.
Weston made images emphasizing the qualities of the photographic medium rather than trying to make photographs look like paintings. Cunningham studied surfaces and reflections, while Bullock juxtaposed movement over time. Dewolf advanced popular photography through new technology with modern-day "Quad-Tone" digital images.
Gallery hours are 10 a.m.-4 p.m. Tuesday-Friday, noon-4 p.m. weekends. The gallery is closed Mondays and holidays. Admission is free and the public is invited. For more information call 410-548-2547 or visit the SU Web site at www.salisbury.edu.