Friday, December 1, 2006
American Cancer Society Recognizes SU Alumna's Volunteer Efforts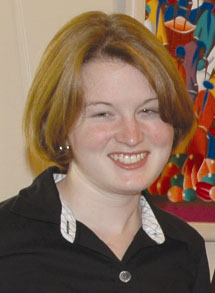 SALISBURY, MD---The American Cancer Society recently recognized Salisbury University alumna Kimberly Bartlett for her work as SU Relay For Life co-chairperson while a student here.
Bartlett ('06) received the Award of Excellence for Volunteer Leadership, which is presented to an outstanding volunteer who demonstrates exceptional leadership with the society's initiatives, projects, events or programs. It also recognizes the impact of her efforts on the society's goals, resulting in an expanded community presence.
She was selected from among all Maryland, Delaware and Washington, D.C., region volunteers. The award will be presented at the society's Annual Volunteer Leadership Summit Awards Banquet Saturday, February 10, in Baltimore.
"Kim reached beyond managing and leading a committee of youths to Relay success," said Debbie Jones White of the society's South Atlantic Division, who nominated Bartlett. "She understands our mission and is committed to reducing incidence and death rates from cancer through fundraising and public education about prevention and early detection."
A Relay For Life participant since eighth grade, Bartlett first organized a Relay club with friends in high school. At SU, the education major served as Education Club team captain and then volunteered as two-time event chair.
Under her direction, SU's 2005 Relay grew to include more than 800 participants on some 80 teams. It was named the nation's No. 1 college Relay in per-capita fundraising. In 2006, about 100 teams were signed up Bartlett's Relay, which raised more than $138,000 and was ranked No. 2 among the nation's mid-size colleges despite bad weather.
The award also recognizes Bartlett's other commitments to the society including attending national and regional trainings, founding SU's Colleges Against Cancer Chapter and engineering a series of local, successful smoke-free bar nights. Bartlett also negotiated for healthy eating and exercise features in SU's monthly menu guide and founded an annual Relay Night at SU's Bistro that features all purple food selections and follows healthy eating guidelines.
"I was surprised that I was even nominated," Bartlett said. "It's a great cause and it has meant a lot to stay involved." Even though she's not organizing next year's Relay, Bartlett still plans to participate. It will be held at SU's Intramural Fields May 4-5.
For information call 410-543-6030 or visit the SU Web site at www.salisbury.edu.