Wednesday, September 21, 2011
Alzheimer's Expert Brandt to Speak at SU Monday, September 26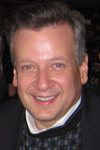 SALISBURY, MD---Every 69 seconds, someone in the United States develops Alzheimer's disease.
This statistic from the Alzheimer's Association is more than just a number — it's a reality for more than 5.4 million currently living with the disease. President Obama recently spoke about the need for a national plan to address the cost of Alzheimer's care and expanded research into the dementia-related disease.
While not all memory loss is Alzheimer's-related, when should loved ones become concerned?
Dr. Jason Brandt, professor of psychiatry, behavioral sciences and neurology at the Johns Hopkins University School of Medicine, answers that question during the program "Memory Loss in Older Adults: When is it Dementia?" He speaks at 5 and 7:30 p.m. Monday, September 26, in the Nanticoke Room of Salisbury University's Guerrieri University Center.
Brandt is also the director of JHU's Copper Ridge Institute for Alzheimer's research. Registered nurses and social workers attending his program will be eligible to receive a certificate for one hour of Category II education upon completion.
Brandt's talk is sponsored by the SU Nursing Department, Institute for Johns Hopkins Nursing, Johns Hopkins Geriatric education Center Consortium and Eastern Shore Area Health Education Center.
Admission is free and the public is invited. Light refreshments will be served.
For more information call 410-543-6401 or visit the SU Web site at www.salisbury.edu.