Thursday, October 8, 2015
Alumnus Rides 'Unofficial' Sea Gull Century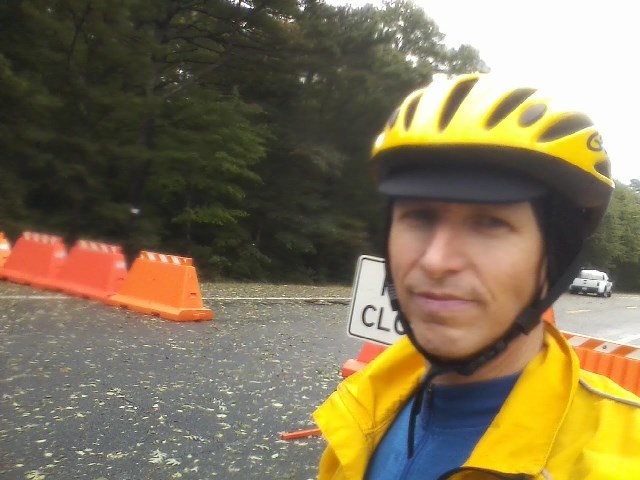 Salisbury, MD---Although officially canceled, Salisbury University's 2015 Sea Gull Century was completed by at least one rider.

Alumnus Bill Davis '85 of Seaford embarked from campus at 6:48 a.m. ? as he has done every year since 1992.

"The Sea Gull means enough to me that I didn't want to see its continuity broken," he said of the ride's 27-year history.

An accomplished cyclist who once rode with the local Ocean Velo cycling club, he said, at age 52, he is "no longer as quick or as strong" as some of his peers. However, he had enough confidence in his fitness level to attempt something "foolhardy" like this.

Davis, an environmental scientist with the Delaware Department of Natural Resources and Environmental Control, said he had a hunch on Wednesday that it would be difficult for organizers to hold the Sea Gull Century. "My occupation allows me to see some of the behind-the-scenes work emergency planners do, and I understood that Maryland State Police would have their hands full," he said.

Sure enough, the ride was called off on Thursday.

Davis, however, wanted to keep his streak – and the ride's history – intact. So on Saturday morning, he headed down to campus to tackle his traditional 100-mile Assateague route. (Only this year, instead of biking from his house to Salisbury, he used his wife's van, which had heated seats for the presumably cold, damp return trip home.)

"My familiarity with the route and the abundance of markings allowed me to take in the scenery," he wrote in a ride report to Century organizers afterward. He was nervous as he evaluated the weather for the first few kilometers, knowing the initial quarter of the route on his trusty Bridgestone RB2 would be easier than other portions. It also felt strange not to have his SU-issued rider no. 3432 pinned to his jersey this year.

"Heading south down Stevens Road, the early amber daylight mixed with preliminary fall colors to create a tranquil scene," he said. "The tailwind could lure the uninitiated to believe that the day would be casual. It occasionally rained heavily, and stopped as suddenly as it started. Over time, wetness would overwhelm rain. The turn onto Nassawango Road was as expected. I knew where the headwinds would be. In a sequel to be repeated throughout the day, trees provided sufficient cover to negate the wind, while open fields served it up with intimidating gusto.

"In an impressive display of logistics, I was disappointed to find that all the port-a-potties had been picked up. I was amazed how many toilets could have been collected in one day. Luckily, the golf course left theirs out. Throughout the day, debris on the road was heavy whenever I passed trees. In addition to nuisance twigs and slippery pine needles, there were big sticks, branches, and assorted chunks of wood. One rider could pick their way through; many riders would not have been able to."

When he arrived at Assateague, the road was closed. He took a "selfie" to document the day, replenished with a Cliff bar, and texted his wife to let her know his progress (which was "darn difficult with soaked long-fingered gloves").

Then the unexpected happened.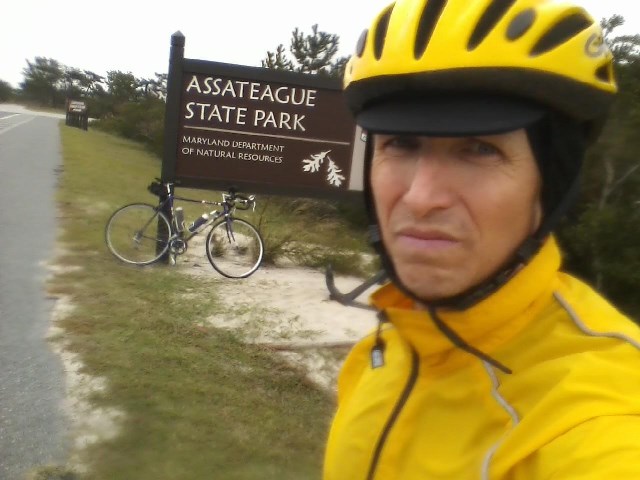 "While I was there, the park rangers opened the road, and a state trooper advised me to 'proceed at my own risk,'" he said. "I now have a better appreciation of that phrase. I simply wanted to cross the Assateague bicycle bridge. It seemed like an easy task, but boy-howdy was I wrong. The cross-wind at the top of the bridge had me seriously reconsidering the wisdom of my decision."
When he finally arrived on the island on the other side, Davis took another selfie.
"Throughout the years the Sea Gull has been a special time for me to wrap up the cycling season, contemplate life, and simply enjoy the incredible route at a leisurely pace," he said. "It's the one time of the year that I can count on the roads belonging to cyclists."
This year, his only company on the route were a few Ocean Velo riders he passed when heading out of Assateague. He also helped one turtle cross the road because "karma deposits are always nice."
His ride "to and through" Berlin was uneventful, except for an especially good smell: "Somebody was baking something somewhere," he said. "If I hadn't been so wet, I probably should have tried to find out what that smell tasted like."
Throughout the day, he was reminded why he was among only a few souls out-and-about: "Canceling the event was the correct call. Regrettably, it was the only option. What one rider can do, 6,000 cannot. While the weather was sufferable, the road debris would have made pace-line riding catastrophic." Especially near Berlin he found that "road debris from trees made riding on the shoulder impossible ... 6,000 cyclists in the main lane of traffic would have been problematic."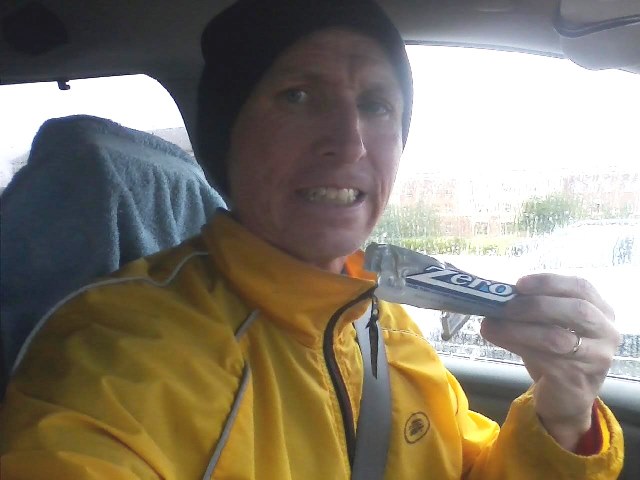 Fortunately Davis made it successfully to the last rest stop in Powellville, which for him is "always a welcome sight." This year there was "no pie and ice cream, of course, but the local church had a welcome sign for cyclists which seemed to help," he said. "Maybe it was the anticipated tailwind."
Upon finally returning to Salisbury, he joked that: "As expected, my shoes had transformed into 40-pound cinderblocks."
Davis has ridden the Sea Gull Century in the rain before. One year it was so heavy that he took the shorter metric route. Another year, he was sick: "It was all I could do to ride the reverse route to Powellville, get my pie and ice cream, and get back to SU."
This year, of course, will be another one to remember: the year a nor'easter and Hurricane Joaquin left the roads devoid of thousands of other Century cyclists.
But, Davis said: "All-in-all, it was a special ride, like all Sea Gulls."
Davis earned a B.S. in physical sciences from SU with a concentration in engineering; he went on to study mechanical engineering at Old Dominion University through a 3+2 program.
"Without a doubt, my time at Salisbury gave me a competitive advantage at ODU," he said. "Dr. Andrew Pica and Dr. Lee May had a profound impact on my life. My only advice to current students is to savor the experience more. SU is a special place, and the collegiate experience is a formative time of life."
For more information, call 410-543-6030 or visit the SU website at www.salisbury.edu.