Wednesday, February 14, 2007
Alumnus Returns to SU Stage to Instruct 'Joseph Andrews' Cast in Combat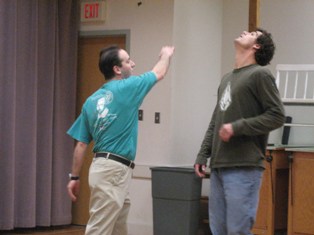 SU alumnus Todd Gillenardo, left, instructs student Griffin Jones on how to take a stage punch
SALISBURY, MD---He's been the Sheriff of Nottingham and a member of the Police Academy.
However, for two days this month, Salisbury University alumnus Todd Gillenardo ('93) was just himself: stunt man, combat choreographer and mentor to students on the same stage he himself performed on more than a decade ago.
The students he instructed will use their newfound skills during the Bobbi Biron Theatre Program's upcoming production of Joseph Andrews, an original adaptation by Gillenardo's friend, colleague and former professor, Dr. T. Paul Pfeiffer, director of SU Theatre.
In fact, it was an SU production that gave Gillenardo the leg up he needed to become a professional stuntman. As part of the requirements for appearing in SU Theatre's The Three Musketeers, the actor learned stage swordsmanship.
After graduation he moved to St. Louis to pursue an M.F.A. in acting at Lindenwood University. There he saw a sign for auditions for Robin Hood Stunt Spectacular, a production staged by Warner Bros. and Six Flags amusement parks.
The sword skills he retained from SU helped earn him a part as the Sheriff of Nottingham and led to an additional role in the park's Police Academy Stunt Spectacular, for which he learned stage gunplay. This came in handy during Gillenardo's big-screen appearance in the 2005 movie Hooch & Daddy-O, a documentary spoof of 1980s police shows. In addition to serving as the film's stunt choreographer, he also had an on-screen cameo.
With these skills, he branched out into other stunts and met some of the leaders in the business, including Chicago stunt master Tom Lowell. Through the years, Lowell has tapped Gillenardo for work on the Sci-Fi Channel and other productions.
"He called and said, 'I need someone to hang off a Jeep and fire at an alien. Do you want to do it?'" Gillenardo said. "And of course I said, 'Yes!'"
While the stunts in Joseph Andrews aren't quite as daring, they still require a degree of skill and training, he said. He helped choreograph several scenes in the production, including a number of fights and a rope swing by the main character: "There are a lot of [script] pages with a lot of scattered violence and a lot of group attacks. That's what I specialize in."
Gillenardo is no stranger to stage choreography. He works closely with theatre groups in St. Louis, including the St. Louis Shakespeare Company. He returned to SU in 2003 to help choreograph a fight for SU's production of Hamlet.
"My approach on fighting is to instruct first so the actors can take that with them and use it in other productions," he said. "Then I show them the moves, where to place their feet, where to place their eyes. It's all about the eyes, believe it or not.
"It's a balancing act between giving the audience some excitement and working with the actors' limited abilities. They're not professional combatants."
Gillenardo's credits also include MTV and motion pictures still in production. He also works closely with the St. Louis Shakespeare company as an actor and fight choreographer.
So is it dangerous?
"This is how you do it in Hollywood," Gillenardo said. "This is all safe stuff."
Joseph Andrews opens Thursday, March 1, in the Black Box Theatre of Fulton Hall. Performances continue Friday Sunday, March 2-4, and Thursday-Sunday, March 8-11. Curtain is 8 p.m., 2 p.m. Sundays.
Admission is $10, $8 for seniors during Thursday performances, $12, $10 for seniors during all other performances. The play is recommended for mature audiences. For tickets call 410-543-6228.
For more information call 410-543-6229 or visit the SU Web site at www.salisbury.edu.