Thursday, October 13, 2011
Allegheny Baroque Opens Jackson Chamber Music Series Oct. 21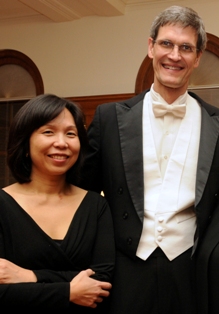 SALISBURY, MD---When the Peter and Judy Jackson Chamber Music Series makes its debut at Salisbury University this fall, audiences will hear skilled musicians from the local community and from throughout the mid-Atlantic.
Two concerts inaugurate the series: The Allegheny Baroque Ensemble performs 7:30 p.m. Friday, October 21, in the Great Hall of Holloway Hall. The ensemble includes Jeffrey Schoyen, cellist and conductor of the Salisbury Symphony Orchestra, and Sachi Murasugi, violinist and concert master for the SSO, with guest artists Risa Browder, Barbara Hollinshead, John Moran and Gwen Toth. Their program is titled "Music from the Italian Baroque."
The Baltimore Consort, whose albums have placed in Billboard magazine's top 10, performs 7 p.m. Sunday, November 13, in Holloway Hall Auditorium. Its repertoire includes early music from England, Scotland, France, Italy, Spain and beyond.
Chamber music, because of its intimate nature, has been described as "the music of friends." For Peter and Judy Jackson, that seems particularly apt. Friends of the arts in Salisbury, their generosity to the SSO is well known. Their $500,000 charitable remainder unitrust announced in December 2009 as well as an earlier $100,000 challenge grant that ultimately led to a $400,000 endowment, has given the symphony a financial stability many orchestras would envy. Through the Peter and Judy Jackson Music Performance Fund, they have underwritten concerts at the Wicomico Public Library and helped bring such groups as the American Spiritual Ensemble to Salisbury.
The chamber music series has similar goals. "We're desirous of seeing that small group ensembles have the opportunity to be heard on Delmarva," said Peter Jackson. He particularly wants local performers "to be seen, heard and enjoyed on the Eastern Shore."
Such opportunities provided to their daughter Sarah, while growing up in Canada, allowed her musical talent to blossom. Today she is a member of the Los Angeles Philharmonic. Locally, Judy and their daughter Catherine have sung with the Salisbury Chorale, enjoying and supporting area choral performances.
Although the Jacksons' first preference for the series is the support of local talent, musicians from the mid-Atlantic, and even beyond, may be invited to perform. The inaugural Baroque program includes guest artists Browder (violinist) and Moran (cellist), who are faculty at the Peabody Institute and who co-direct the Baltimore Baroque Band. Both have distinguished performing careers including the Folger Consort, various Smithsonian Chamber ensembles and REBEL.
Hollingshead (mezzo-soprano) teaches at American University. She too has had a distinguished performance career in Europe and Canada. In the U.S. she has performed with many of the East Coast's top groups including the New York Collegium and the virtuoso period ensemble ARTEK.
Toth (harpsichordist), who has been a guest artist with the SSO, is founder and director of ARTEK. She is one of only a handful of American conductors of historical performance ensembles.
Their program includes works by Monteverdi, Scarlatti and Sammartini, among others, performed on period instruments.
Johann Wolfgang von Goethe described chamber music as "rational people conversing." Growing up, Peter Jackson played double bass as part of a family string quartet that also included his father on viola, his mother on violin and his brother on cello. He fondly remembers performing for his grandparents at their summer house on Lake Huron. He and Judy hope Salisbury audiences want to engage in such conversations.
"Peter and Judy Jackson have long been supporters of music at Salisbury University and benefactors of the Salisbury Symphony Orchestra," said Schoyen. "In sponsoring the chamber music series, they are continuing that commitment and helping not only to increase the University's concert offerings, but to expand the cultural opportunities for the community at large. We are proud to be a part of the series' inaugural performance."
Admission to both concerts in the Jackson Chamber Music Series is free and the public is invited. For more information call 410-543-6030 or visit the SU Web site at www.salisbury.edu.