Tuesday, July 3, 2007
Algonquin to Acadia: SU Celebrates 25 Years of Wilderness Experiences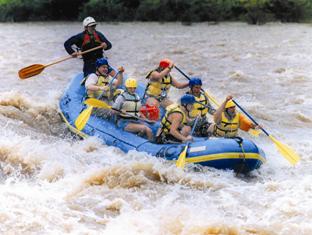 SALISBURY, MD---During the summer of 1983, a handful of Salisbury University faculty and administrators ventured to Algonquin Provincial Park in Ontario, Canada, with a group of incoming freshman to canoe, camp and contemplate the four years of college life that lay ahead.
Now, 25 years and countless campfire discussions later, students still travel the same lakes, and alumni also return to the pristine Canadian waters to recreate their unforgettable, Thoreauvian experience.
"There's something special about the Algonquin trip; it completely removes students from any safety net," said Mike Lewis, History Department faculty and three-year course leader. "No cell phones, no bathrooms and they have to cook their food. It forces them to rely on each other."
Initiated by Joe Gilbert, former vice president for administration, the idea was to offer freshman orientation during a wilderness trip, as an alternative to the classroom. The prototype for SU's many unique orientation activities, it started with canoeing and led to cycling and sailing in Maine soon after. Over the years, the program has continued to evolve and now students may choose from some 16 New Student Experience Seminars.
When Algonquin started a quarter century ago, the concept of a wilderness experience was unusual, Gilbert said. One of the first of its kind and a model for other universities, it was named a Distinguished Program for Student Services in 1986 by the Maryland Association for Higher Education. The honor stemmed in part from the high graduation rates, strong campus involvement and academic success among student participants. Many have said it made their transition to college life easier.
According to Gilbert, sitting in small groups around a campfire created an open atmosphere, where students felt much freer to ask questions about college. "Students bonded among themselves and with us; they hung around together," he said. Gilbert's wife, Valerie, a former SU biology professor, said she always knew which students went to Algonquin because when the semester started they all sat together and were already friends.
Long-time program director Dave Ganoe, former director of SU's Guerrieri University Center, agreed that the key to the program's success was the support system it created. "When the inevitable problems developed, students felt comfortable coming to us and we could intervene early with resources to help," he said. "The camaraderie that developed in the woods carried over back on campus."
An academic interest in the environment also spilled over. The program has gone hand in hand with such SU classes as "Wilderness and Literature," taught by Dr. Bill Horne, a 20-year Algonquin traveler, Gilbert's "American Conservation and Preservation," and the "American Wilderness Experience," which is now taught by Lewis. He called Algonquin the genesis for SU's outdoor education program, environmental health and issues programs, and the spirit of environmental activism that exists on campus.
And the original wilderness trips have inspired a new generation of orientation options, which now use outdoor activities from whitewater rafting in West Virginia to building homes for Habitat for Humanity to introduce students to University life.
A requirement for all freshmen and transfer students with less than 24 credit hours, orientation provides pertinent information through a fun, theme-oriented experience. Classes include "Masters of Disaster," which not only prepares freshmen for the first semester, but trains them to aid the American Red Cross in case of a local emergency. For those interested in diversity, "MOSAIC" explores ethnic traditions down to foods, and cultural experiences.
Candid discussions about topics such as alcohol and drug use, personal relationships and academic pressures are included in the programs. Conversations may take place while camping on Assateague Island, hiking in Alaska or cycling in Acadia National Park.
New this year is an exploration of Ecuador, and a cycling tour that introduces students to the Eastern Shore by bike. In the classroom, "Champs Life Skills," helps student athletes with time management and stress. Another course uses New York City's arts and culture to explore social choices.
But the original Canadian canoe journey, which at its peak had 12 trail crews making two trips a summer, remains popular. This August, 36 freshmen and 12 upper-class peer leaders will again set out for a week under the stars, said Algonquin veteran Kevin Birch, History Department faculty and assistant director of outdoor programs. Like many of the wilderness experiences, it involves helping with a Canadian park project, which instills in students an appreciation for the environment and a sense of community service.
For six couples, the Algonquin trip not only started an amazing four years at SU, it also was the beginning of a relationship that blossomed into marriage, Birch said. Many others have formed long-lasting friendships.
"Twenty-five years speaks volumes for the program's success," said Gilbert, who recalled Algonquin memories such as hearing loons, seeing a moose and the Northern Lights. "It's my hope that every freshman who comes to SU gets involved in one of these outdoor programs."
For more information call 410-543-6030 or visit the SU Web site at www.salisbury.edu/newstudexp/.
/eof